Architects Clerkenwell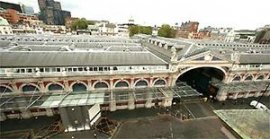 Smithfields Market: 'its western extensions may be demolished to make way for more unthinking, computer-generated design.' Photo: David Sillitoe

Vladimir Ilych Ulyanov edited and printed issues 22 to 38 of Iskra (The Spark) from a tiny office at 37a Clerkenwell Green, London EC1, a building that looks, from a distance, like a Georgian doll's house. Since 1933, this has been the Marx Memorial Library, the radical heart of old Clerkenwell, a once fiercely working-class and now modish middle-class quarter of central London, peppered with creative folk from jewellers and fashion designers to architects. It was from here, a village green, that rebellions, riots and even the political volcano of the Bolshevik revolution have rumbled and exploded.

Lenin's office, which he shared in 1902-03 with Harry Quelch, his London host and manager of the Social Democratic Federation's Twentieth Century Press, survives. As a boy I attended a reading here and was told that one day the young Stalin stepped this way to meet Lenin and to drink at the pub next door. I was captivated by the idea of the two sipping a quiet pint in Clerkenwell Green.

The pair were not to meet until 1906, by which time publication of Iskra had been transferred to Geneva. The board had voted five-to-one in favour of the move; the solitary vote against was Lenin's. He liked London. But the very idea of Lenin and Stalin together here captures the intense political nature of Clerkenwell at the red heart of what, in the 1930s, was only half-jokingly referred to as the People's Republic of Finsbury. With communist councillors and a radical health programme aimed at ridding the area of rickets, lice, diphtheria and TB, Clerkenwell's streets were to be transformed by a mix of common sense, socialist fervour and new architecture.

And, in part, they were. The Finsbury Health Centre was opened in Pine Street in 1938, a few steps away from 37a Clerkenwell Green. Its radical design was by the communist architect Berthold Lubetkin, a Georgian emigre who had witnessed the October Revolution. It remains a local authority health centre, a surprising slice of Soviet constructivism in an area of new bars, and around the corner from a horrid new building with recurring McDonald's logos served on indigestible red brickwork. Measures, perhaps, of the ways the area is fast changing.

Clerkenwell is rich in radical history and may well be creative beneath its surface, but those attending the first London biennale will find that it lacks the glamorous architecture associated with this type of festival. Its committee based it on the Venice biennale, a city centre hard to rival for exceptional buildings.

Clerkenwell in the 18th century was a village of spas, tea gardens and theatres. From the Industrial Revolution until very recently, however, it has been a rough and ready place. In the 19th century it was home to brewers, distillers, printers, cabinet and clockmakers. Just a decade ago, the venerable-looking interior of the Jerusalem Tavern in Britton Street was a gaping void into which printing presses were once shoehorned.

Clerkenwell burst into new creative life in the last decade, when industrial-era enterprise moved out or shut up shop, and waves of artists, designers, writers, publishers and architects washed in, followed by a fierce tide of property developers and restaurant owners. Most squeezed their way into old buildings, restoring or converting them as they went, and, for the most part, Clerkenwell's fabric, although hardly the stuff of Venice, is tightly packed, shoulder-hunched and enchanting in a wash'n'scrubbed Dickensian manner. Zaha Hadid, an architect celebrated for her sensational designs, works not from some headline-stealing concrete zig-zag, but from a stern Victorian school in a labyrinth of streets potted with low-rent housing.

As Clerkenwell stretches down what were once the banks of the River Fleet - the pavements of Farringdon Road and Farringdon Street today - something changes. And not for the better. Here steep cliffs of boring new offices rise as fast as they can be built. Gormless money-making machines, these represent a new form of 19th-century industrialism, stripping the character of the area.

To the south of Smithfield Market, its prickly Victorian entrances guarded by fierce iron griffons, a banal office block has emerged from behind its hoardings on what was, for years, an open-air NCP car park. The market itself is under threat. Its western extensions may be demolished to make way for more unthinking, computer-generated design.

Luckily, much of Clerkenwell is well-seasoned with listed buildings, and many of its narrowest streets are lived in by people who can afford to look after them. So, it is unlikely it will lose its age-old bohemian core. And there is lively new design emerging from the architectural offices. These follow a number of practices, like colourful postmodernists CZWG (who designed Janet Street-Porter's sparky house on the corner of Britton Street), Julyan and Tess Wickham and YRM, the latter housed for years in a hidden office designed in homage to Mies van der Rohe.

If few today could take on the mantle of Lubetkin, it is because architects are asked less and less to contribute to social or civic architecture. We prefer shops, bars and snappy "apartments" to high-design health centres. Yet, seeing what architects get up to in these London streets we might glimpse what could be, and join a discussion that demands buildings and streets that matter - not just to tight-knit, media-conscious Clerkenwell, but to all our towns and cities. The spark, or iskra, might just be here, somewhere.