Architects Nottingham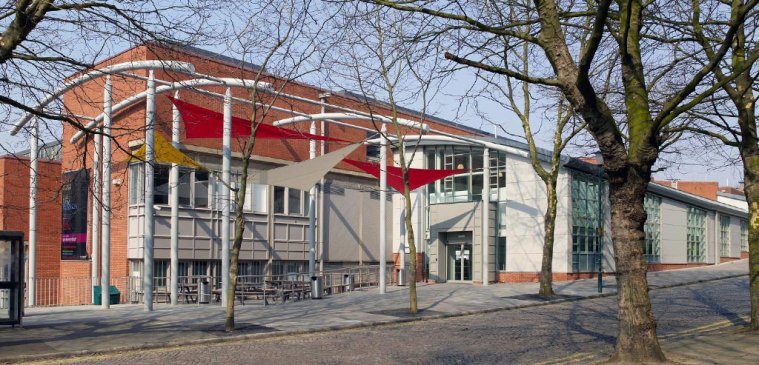 Location Nottingham, United Kingdom
Value £30 million
Size 45, 000 m²
Client University of Nottingham
Year 1999
An academic park for 2, 500 students regenerates the site of a disused former bicycle factory. A serpentine lake was created following the line of the only remaining feature on the linear site - a belt of trees shielding housing. Along the lake are ranged the principal Faculty buildings, a Learning Resource Centre and a central teaching building.
A colonnade on the front of the buildings forms the pedestrian route through the site, leading from the playing fields to the main campus. It has views out over the lake and gardens, and engages with the restaurants, shops and atria meeting places at ground floor level. Above are the faculty rooms. The shape of the circular Learning Resource Centre and the conical lecture halls, proclaim their importance.
The programme and costs were tight so the construction technology is simple, the emphasis being on refinement and rationalisation of detail. The main three-storey buildings have in-situ concrete frames. The external walls are clad in prefabricated timber panels and windows. Full height sloping glass atria, supported by laminated timber beams, link the blocks.
A low-pressure drop ventilation system uses corridors and stair towers as air plenums, reducing the energy needed to circulate air. Under normal conditions specially designed cowls create adequate wind effect. During hot weather, photo-voltaic cells on the atrium roofs generate supplementary power for the fan driven ventilation.
Details
Awards
RICS East Midlands: Silver Award for Sustainability
Energy Globe Award
Civic Trust Awards: Special Award for Sustainability
RIBA Regional Award
RIBA Journal: Sustainability Award
UK Solar Award
Aluminium Imagination Award: Commendation
British Construction Industry Award
Nottingham Lord Mayor's Award