Architectural Wire Mesh Panels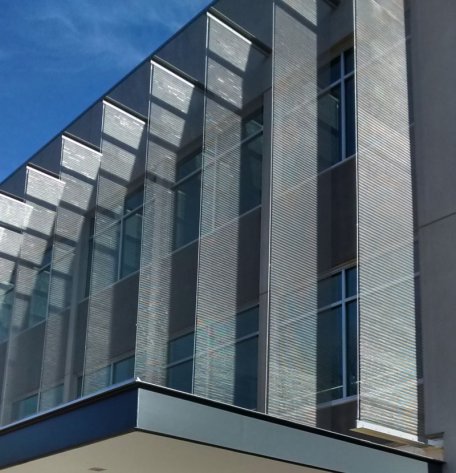 Our product gallery gives you the power to view mesh patterns in two different ways:
Advanced Filter & Compare: A table view showing an image along with technical details that provides additional filter options for logical sorting of even more of our standard and non-standard architectural woven wire mesh patterns. You can apply filters based on shape, size, percent open area, and pricing tier to limit the number of patterns displayed at one time, and use the "Compare" feature to limit your list to only a few patterns that interest you. Additionally, click on any table column headers to resequence the results based on the data point most important to you.
What is shown here?
Shown below is a wide variety of large, mid-fill, fine, and opaque mesh offerings – with sample images that demonstrate the variety of texture and material specifications available from Banker. The images shown are representative of what can be done with each weave/pattern, so while you explore our patterns, remember that every pattern Banker manufactures is available in several materials and secondary finishes, and can be further customized to meet your specific project requirements.
How to view more pattern details?
Click any pattern to view multiple large mesh photos, interactive 3D model, complete technical details, customization options, and related mesh patterns. At Banker, we are masters at customizing wire mesh, so if you want something even more unique than what you see here, contact us and we can work together to create the perfect wire mesh for your project.