New Town, Scotland
In the late fifties and sixties three new towns were built in Scotland - Cumbernauld, Livingston and then Irvine. These were in addition to the new towns of East Kilbride and Glenrothes, both of which were built in the late 1940s.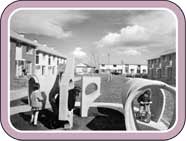 A playground in Glenrothes.
New towns were built to help solve modern day housing problems. The cities were overcrowded and much of the inner city housing was poor quality 'slum' housing.
Because they were built on new sites, councils had the opportunity to build towns which were ideal for modern day living.
New towns tended to be based near cities which were being regenerated or next to areas where large industries were based. They had their own new schools, play areas and small shopping centres. Many industries, especially factories, settled next to new towns which improved employment in these areas. New towns often had good transport links to cities and nearby towns and were seen as safe places because they tended to keep traffic away from pedestrians.
However, new towns did have their problems. They often looked dull and grey because of the amount of concrete used to build them (using so much concrete was also bad for the environment), they did look 'space age' at the time but dated quickly. And, like the new housing in cities, it was often not the best quality because of the speed with which it had been built. Also, as in the cities, the sense of community was lost as people moved to areas where they did not know their neighbours.