House Design Scotland

Deeside Timberframe is one of Scotland's top manufacturers and suppliers of timber frame homes for the self build market.
We have a comprehensive range of timber frame home styles and designs suitable to provide all the comforts and practicalities of modern life.
Deeside Timberframe's range of beautiful home designs for self build offer all customers high functionality and comfort. Our brochure house plans and more complex bespoke house plan designs give our clients a broad range of options to choose from so that they build a home that suits their specific needs.
At Deeside Timberframe our priority is to meet and exceed customers' expectations, providing them with a high quality of service and the home of their dreams. That is why we are the supplier of choice for timber frame self build homes in Scotland.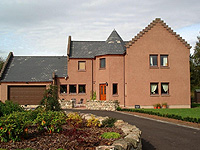 Our experienced team is on hand to guide you through the process of turning your dream home into a reality, from the planning stages all the way through to final construction.
At Deeside Timberframe our objective is to ensure the self build process is successful and enjoyable for our clients. We offer a variety of Timber Frame Home Design plans to suit all our customers' needs.
Choose our popular standard house types or develop it to your exact requirement
- You may love our existing designs exactly as they are or require changes to meet your precise vision, living requirements or planning requirements. We are happy to work with you and make the appropriate adaptations to our standard drawings.
Working from your own drawings and plans
- Some clients may already have their own plans or drawings in place. We are happy to work with you and your chosen architect if this is the case*.
Bespoke Design Architect Service
We also provide a bespoke design & architectural service where we will explore your own ideas in conjunction with our team to develop your proposals into drawings and plans.*