Heritage Ireland
- The Heritage Card provides for free admission to all fee-paying State managed OPW Heritage Sites located throughout the country for one year from the date of first use (with the exception of Muckross Traditional Farms, Killarney). At certain locations, parking facilities and ancillary services are provided by other bodies or agencies. There may be a charge for the use of such services. Any such charges are separate to and are not covered by the Heritage Card.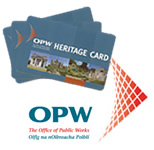 The cards cost as follows:
Adult €25.00. Senior €20.00 (60 years and over).
Student/Child €10.00 (Valid student ID required / Child (6-18 years).

Family €60.00 (Max. 2 adults & 5 children under 18 years)
Heritage Cards are vaild for 1 Year from date of first use.
Heritage Cards are non-transferable and not replaceable if lost or stolen.
- For information on location, opening times etc. of sites that can be visited with an OPW Heritage Card please browse the sites by selecting a region from the main menu. Alternatively use the search, sitemap. or map brochure (click on this link to view the Heritage Ireland Map Brochure 2016‌).
- The quickest and most convenient way to purchase an OPW Heritage Card is to buy it at the one of these sites listed (Please click of the following link) List of Heritage Sites where you can purchase the Heritage Card List of Fee Paying Sites . Please click on this link for a List of Heritage Sites with Credit Card facilities.
- Alternatively, complete and print off the form below and either fax or post it to us. Please note that a separate form is required for each OPW Heritage Card application. Please allow 20 days for receipt of cards by post.
- If you are looking for the ideal gift why not choose a Heritage Card which is available in a Gift Wallet.
Completed forms can be presented at any fee-paying sites or posted or faxed to the address / fax number below, you can also order over the phone by calling the number below.
Heritage Card Officer
Visitor Services
(FREEPOST)
The Office of Public Works (OPW)