RIBA Scotland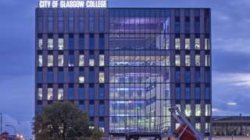 Image copyright Edmund Sumner/RIBA
The new City of Glasgow College Riverside campus has been shortlisted for the UK's highest architecture award.
The winner of the prize will be announced on 6 October.
Paul Little, principal and chief executive of City of Glasgow College, said: "City of Glasgow's new super campus is stunning and we are delighted that it has taken pride of place among such amazing buildings on this shortlist.
"Our Riverside campus students and staff are enjoying a world-class learning environment and the building has already made a hugely positive impact with our industry and education partners right across the globe.
"We have always said that our campus buildings are more than just that; their beautiful perceptive designs - deliberately open and connected - inspire collaboration, exploit synergies and foster partnerships.
"Riverside also has a real sense of place on the River Clyde and will no doubt enrich the life of our great city for many years to come."
Lyle Chrystie, of Reiach and Hall architects, and Brendan Diamond of Michael Laird Architects, who designed the building, said in a joint statement: "In the twenty one years the award has been running, only seven projects in Scotland have been selected for this shortlist.