GSA Glasgow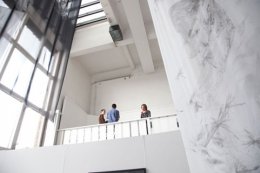 Professor Inns was appointed Director of The Glasgow School of Art in September 2013. He was previously Dean of Duncan of Jordanstone College of Art & Design (DJCAD) and Director of Research for the College of Art Science & Engineering at the University of Dundee.
Tom studied Engineering at Bristol University and Industrial Design Engineering at the Royal College of Art. In 1990 he was a co-founder of the Design Research Centre at Brunel University, becoming Director in 1996. He completed his PhD in 1998 and moved to DJCAD as Professor of Design in 2000 becoming Head of the School of Design in 2001, where he established new undergraduate and postgraduate programmes linking curriculum in design and fine art with computing, engineering, medicine and the humanities.
In 2004 he was appointed as Director of the UK Research Council funded, Designing for the 21st Century Research Initiative. Over a five-year period he led this £6.5 million initiative co-ordinating the work of 41 research projects, linking design to disciplines in science and engineering in universities across the UK. In 2010 he was appointed Dean of DJCAD. He has a strong interest in the future of design and how design thinking can facilitate interdisciplinary discussions. He teaches strategic design at the Universities of Dundee and St Andrews and regularly designs and facilitates knowledge sharing events and workshops with research organisations and innovation agencies across Europe.