Architectural Resources Cambridge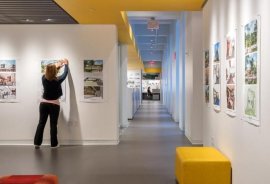 Courtesy of Warren Patterson
These pictures are of the new office interiors of ARC/Architectural Resources Cambridge. ARC moved from Kendall Square in Cambridge to 501 Boylston St in Boston's Copley Square.
Built in 1940, the 501 Boylston St building occupies a storied place in Boston's architectural history. Its granite façade and Art Deco details occupy the block between Clarendon and Berkeley streets, on the site of MIT's first home, the Rogers Building (1866-1939).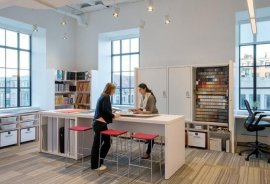 Courtesy of Warren Patterson
Today, 501 is home to dozens of knowledge and innovation companies occupying 608k SF. "Moving from Cambridge was a big change, but we were ready to align our future aspirations with a great workplace, " ARC/Architectural Resources Cambridge project architect Leslie DelleFave tells us.
"The Back Bay location fits the company personality and people well, " Leslie says. "Accessibility, vibrancy and history all drew us here—and the building had the right palette for us to build upon."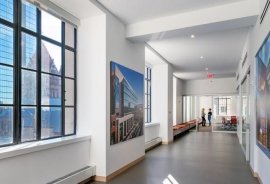 Courtesy of Warren Patterson
Overlooking Copley Square with a bird's-eye view of Trinity Church and the Boston Public Library, the new office taps into the energy of a bustling commercial and residential neighborhood.
High ceilings and oversized windows provide abundant natural light and ever-changing views of the Back Bay and Charles River. ARC also designed an abundance of flexible gathering spaces where groups from two to 40 can meet. Instant-on technology tools and adaptable furniture systems allows easy reconfiguring.
The new office layout also features a variety of creative individual workspaces and break-out areas allowing staff to move easily into alternative work environments throughout the day. The goal is to promote more conversations and collaboration.
The 80-plus employees can see and hear everyone; no one is tucked away behind closed doors. Interaction is a central theme, fueled by a variety of pin-up walls where project teams post illustrations and information on current design projects.