Architects in Belfast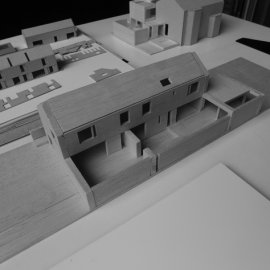 Profile
McGonigle McGrath is an RIBA Chartered architectural practice based in Belfast, Northern Ireland, formed by Kieran McGonigle and Aidan McGrath, both previously the architect directors and owners of the award winning studio, Twenty Two Over Seven.
Twenty Two Over Seven operated between 1990 and 2012, gaining a reputation for producing thoughtful, well crafted architecture, and achieving significant project based success, winning 6 RIBA Awards, amongst many other awards and prizes. During this period, they designed a celebrated and wide ranging body of work, for clients from private, public and commercial sectors, including works to listed buildings and within Conservation Areas. The work of the practice has been published in many architectural publications.
Following its dissolution, the ethos and ambition of Twenty Two Over Seven continues with McGonigle McGrath, their work seen as a continuum of an architectural intent refined over two decades.
Approach
Our work is informed by a sensitivity to context and place, a consideration of form, materiality and craft, and an understanding of the quality and simplicity of buildings well made.
Our passion for the contemporary is moderated by our experience in conservation and our respect for the vernacular.
We approach every project as a unique and individual opportunity. We engage in a critical investigation of each project's needs and constraints through dialogue, observation and research, informed by our considerable project and academic experience, with the objective of delivering the highest level of design quality, and buildings which are inspiring, practical and beautiful.
Our work is also characterised by a rigorous and analytical approach to function and planning, and a thorough process of refinement which is applied to every detail.