Architects Ireland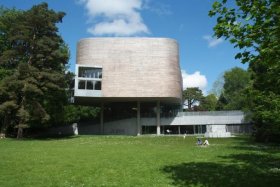 Lewis Glucksman Gallery, Cork, Ireland (O'Donnell + Tuomey) © WikiCommons
O'Donnell + Tuomey
Set to receive the Royal Gold Medal award for 2015 – the world's most prestigious architecture award established by RIBA – O'Donnell + Tuomey stand at the forefront of contemporary Irish architecture. By carefully considering each building's functionality in their designs, they achieve new levels of experience. For instance, a window is not just there to allow light to penetrate the building, but is formed in such a way that will give visitors a particular view to the outside. Founding their studio in 1988, O'Donnell and Tuomey have mastered a combination of rational and artistic approaches to design buildings that are both functional and aesthetically pleasing.
Universita Luigi Bocconi School of Economics, Milan, Italy. (Grafton Architects) | © Brunetti
Grafton Architects
Founded in 1977 by Yvonne Farrell and Shelley McNamara, Grafton Architects are the 2008 winners of the WAF Awards and were one of the five finalists for the 2009 European Union Prize for Contemporary Architecture Mies van der Rohe Award, achieved for their Universita Luigi Bocconi project in Milan. For the design of this winning university building, Grafton Architects have gone in a constructivist direction, referencing the early 20th century Russian architect Konstantin Melnikov. Nevertheless, their overall architectural style tends to focus on making large- scale buildings approachable on a human scale.


Giant's Causeway Visitors' Centre | © Hufton+Crow

Heneghan Peng Architects
A multidisciplinary office focused on architecture, landscape and urban design, Heneghan Peng Architects was established in New York in 1999 by Shih-Fu Peng and Roisin Heneghan before moving to Dublin, Ireland in 2001. Their architecture plays with the landscape in which they build, either seamlessly blending into the landscape or creating new landscapes with their architectural forms. Among other projects, they are currently busy with designing and constructing two large scale museums including the Grand Egyptian Museum of ancient Egyptian artifacts and the Contemporary Arts Center in Moscow, Russia.
Clontarf Road/ Vernon Ave., Dublin | © de Paor
dePaor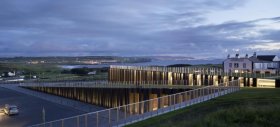 Tom de Paor is an architect and artist who opened his office straight after graduating from University College Dublin in 1991. As the first architecture practice to represent Ireland at the Venice International Biennale of Architecture, with a conceptual sculpture of a tapered cube of stacked turf blocks, de Paor seems to often combine architecture and art. While his approach is post-modernistic, he uses a minimalistic architectural vocabulary in his designs, creating works that stand out for their conceptual aspects but don't scream for attention.

Boyd Cody Architects is a design practice that was established in 1997 by Dermot Boyd and Peter Cody. Starting out with a focus on interior design, Boyd Cody Architects have an affinity for residential and often small-scale architecture projects. The interiors of their buildings are highlighted through large windows that frame the inside of the structure. Besides winning a number of awards and widely exhibiting their work, both directors hold teaching roles – Boyd currently teaches at the Dublin Institute of Technology and Cody at the University College Dublin.


© Boyd Cody Architects

TAKA Architects
TAKA Architects is a young architectural practice founded in Bangladesh in 2006 and is now based in Dublin, Ireland. Founders Alice Casey and Cian Deegan became inspired by vernacular architecture after traveling to Asia, Australia, and South and North America and now aim to design architecture that bears a distinct character. In 2008, TAKA Architects were the youngest ever Irish representatives exhibiting at the Venice Architectural Biennale as part of 'The Lives of Spaces' exhibition.
FKL Architects
FKL Architects was established in Dublin in 1998 by Michelle Fagan, Paul Kelly and Gary Laysaght. The practice works according to the idea that abstract ideas are the starting point, dictating their design process and 'all decisions and materials reflect, reinforce and complement the primary concept.' Having curated and designed Ireland's exhibit at the 2006 Venice Architectural Biennale entitled SubUrban to SuperRural, FKL Architects focused on the topic of suburban sprawl in Ireland and its effects on urban centers.


Social Housing Project in Ballymun | © FKL Architects

GKMP Architects
Grace Keeley and Michael Pike began the GKMP Architects practice in 2003 and since then have designed a number of housing and public space projects, including the Parade and Canal Square in Kilkenny, Ireland. Their designs take the context of the project very much into consideration from the start and they aim to work with materials in a creative way. GKMP Architects' project have been internationally published and exhibited such as at the exhibition 'Rebuilding the Republic: New Irish Architecture 2000-10' which they made part of in 2011 and took place in Leuven, Belgium.
Bucholz McEvoy Architects
Bucholz McEvoy Architects work internationally, with offices in Dublin and Berlin. Designing with a focus on sustainability, Bucholz McEvoy Architects aim for durable design that takes into account not only environmental but also social and economic issues. Stitched into its natural environment, their Elm Park Green Urban Quarter project in Dublin is a large-scale mixture of elements with different functions, comprising of a hotel, private clinic, offices, residences, conference center, dance studio, leisure studio and center, cafés, restaurant and outdoor performance spaces that are oriented toward decreasing energy use and increasing the density of people.


Elm Park Conference Centre | © Bucholz McEvoy Architects