University of the Arts London Architecture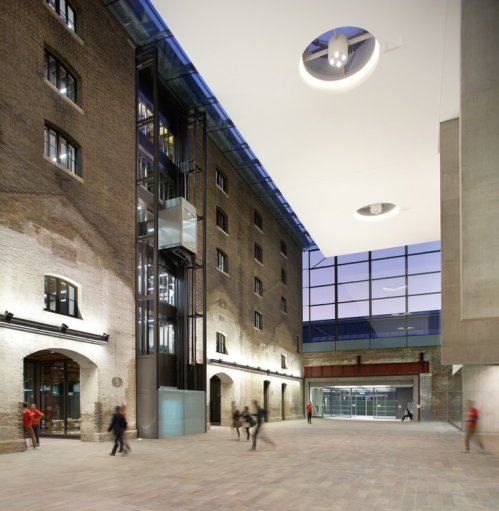 Founded in the 19th and early 20th centuries, the six colleges that make up the university: Camberwell College of Arts, Central Saint Martins, Chelsea College of Arts, London College of Communication, London College of Fashion, and Wimbledon College of Arts, have international reputations in a range of creative fields.
Location and Transport
The university has 14 sites across London, and all are well served by the tube and rail network with stations forming hubs that are fully integrated with the capital's efficient bus and rail system.
Entry Requirements
Much of the university's recruitment is through one-year foundation courses or portfolio work.
A level and GCSE requirements vary – the entry requirements are course specific. Visit our website for details.
Student Mix
The 17, 775 students enrolled in the academic year 2014/15 comprise:
Level of study
Undergraduate 82%
Postgraduate 18%
Mode of study
Full Time 93%
Part Time 7%
Teaching Standards
The Quality Assurance Agency's (QAA) review of the university in January 2013 found that the university meets expectations in the four key areas examined – academic standards, the quality of student learning opportunities, information about learning opportunities and the enhancement of student learning opportunities.
QAA's report of the review is published on the QAA website.
Research Standards
UAL has been placed in the overall top 30 UK research institutions for the quality of research submitted in the REF 2014. It is a top 5 research university in its broader peer group and first in the power ranking in the Art and Design: History, Practice and Theory category.
At University of the Arts London, practice and theory-based research enriches our creative environment and positively impacts the work of UAL students and staff, demonstrating our leading global status in the arts, design and communication sectors.
Academic Strengths
The university has earned a global reputation for outstanding work, launching the careers of many creative and cultural leaders, including: more than half of all Turner Prize nominees, over half of the designers named British Designer of the Year, more than a third of the 40 artists named in the Catlin Guide's most promising graduate artists and 12 winners of the Jerwood Photography Awards.
UAL is the largest postgraduate arts and design community in Europe, with 2, 745 postgraduate and research students.
The University is the leading provider of short courses on creative subjects with around 20, 000 students across the academic year, from 159 countries, aged 10–82.
UAL is home to world-class collections including the Jocelyn Herbert archive and the Kubrick archive.
Student Facilities
Six libraries, with 470, 000+ titles, 15, 000 journals and periodicals (art to web design), including 7, 700 e-journals, 25, 000 videos and DVDs, 175+ databases and 885 electronic books.
Over 50 unique collections are preserved by the University to enhance learning, creativity and research, including the Diaghilev Costume Collection at Camberwell College of Arts and 800+ paper dressmaking patterns housed at London College of Fashion. Students also enjoy unique access to one of the most important and comprehensive film archives in the world, the archive of Stanley Kubrick.

The university's students have access to a wide range of multi-purpose workshops, specialist studios and equipment. Facilities include photography darkrooms, ceramic workshops, foundrys for metal casting, and printmaking studios with access to traditional methods of printmaking such as lithography, etching, screen printing and letterpress. London College of Communication is home to TV and broadcast studios as well as a working newsroom; Wimbledon College of Arts has one of the few theatres in the UK built specifically for shows in the round and Central Saint Martins boasts a 350 seat public facing theatre as well as rehearsal spaces;
The central university Student Hub provides a venue for student focused services. Facilities include: an art gallery showcasing work by recent graduates, a student gallery, café and bar and an activities studio. In addition, the Colleges have their own gallerys showcasing student work as well as their canteens and cafes.
Art shops across the university and colleges sell a wide range of discounted art and design materials.
The Learning Zone, based at the central university site in Holborn, offers an informal space designed for both collaborative and private study and, provides students with open access to computers and laptops and room hire for presentations and rehearsals.
Disability Services
The university currently supports over 2, 000 dyslexic and disabled students.

Students can access confidential advice and support from the Disability Service at any stage (from before they apply to the university through to their graduation).

We encourage applicants to make contact as early as possible to help us anticipate their needs and prepare support. This is particularly important if an applicant is likely to need additional support at Open Days or interviews.

For more information, please visit our website.
Students' Union
The Students' Union provides democratic representation, support and advice to students across the university. The Students' Union President holds a place on the university's governing board.
The Students' Union prides itself on being 'An Arts Union for Arts Students'. Its UAL Platform programme provides opportunities for students to stage solo exhibitions, gain experience of curation and work with high profile external arts organisations like the British Museum.
Availability of Part-Time Work
Creative Careers the largest art and design specialist careers information centre in the country, with information on part-time work and all aspects of the creative industries.
The university's in-house recruitment agency Arts Temps provides students and recent graduates with part-time work opportunities is available within the university and Students' Union.
Careers Guidance
Student Enterprise and Employability (SEE) is the university's dedicated careers and enterprise service. It support students and graduates embark on their professional futures in the creative industries.
SEE helps UAL students and graduates find jobs, set up a business, and sell their work. They run events throughout the Colleges on all aspects of the career journey. They also nurture creative practice and enterprise through funding, mentoring and resources. Their aim is to help students and graduates gain the skills they need to succeed and innovate in the creative and cultural sectors.