University of Waterloo Architecture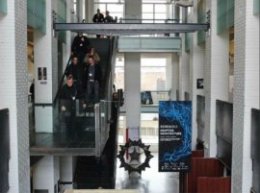 The School of Architecture at the University of Waterloo is a nationally and internationally respected design school. It attracts top students and is dedicated to educating the best architects in the world.
Working with colleagues in related professions, our professors and students have made Waterloo Architecture a dynamic centre of research and teaching in construction, development, built heritage, "green" architecture, visualization, prototyping, and computer assisted design.
The move to Cambridge
For several years, the School of Architecture was limited in studio and classroom space. A Cambridge-based group of business owners and friends of the School of Architecture approached the University with the idea of providing a new home for the School. The Cambridge Consortium, as the group became known, spearheaded the School's fundraising drive to cover a portion of the $27 million cost of creating the new School. The University now has a regional presence and a beautiful building in which to teach Architecture. The city of Cambridge benefits from having a university campus with 400 students, staff, and faculty in the downtown core of Galt.
A historic setting
The School is located in a historic building - the former Riverside Silk Mill. Situated along the banks of the Grand River in Cambridge, the former industrial building provides wonderful spaces for design studios, labs, and classrooms. It also includes a design library, exhibition galleries, public auditorium, and cafe.
As part of the historic downtown core of Galt, set within the larger City of Cambridge, the location is extremely attractive for a school of architecture. The urban landscape in the surrounding community is one of the most beautiful in Ontario. There are several heritage buildings nearby and the Grand River is a powerful presence. A designated Heritage River, the Grand River is a principal element in a diverse system of natural spaces within the City of Cambridge.
Student life
Students are immersed in the urban setting by living in the community surrounding the School. Architecture students often find that the structured nature of residence doesn't suit their schedule in the program and they prefer the flexibility of living off campus. Students have access to recreational facilities in Cambridge as well as to services on the main University of Waterloo campus. The Off-Campus Housing office at University of Waterloo can provide a list of rental accommodations in Cambridge.