Victorian Era buildings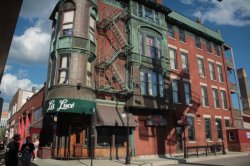 WEST LOOP — A four-story building dating back to 1891 cleared the city's demolition delay list Wednesday, making it legally eligible to be torn down any day.
Still, sources close to the process said, the building likely has at least another month before it sees a wrecking ball.
On Thursday afternoon, the restaurant looked like it could have been open hours earlier. A neon sign facing Ogden still glowed, and a hand-written note on the front window read "closed for party." Inside, stools were stacked upside-down on every table.
"The fact that there's no green fence around it, and that the gas and power haven't been cut off, means it's not coming down any time soon, " Nordstrom said.
The building's owner, Mike Moretti, could not be reached for comment Thursday. He told Eater, however, that demolition "isn't a foregone conclusion" and that its next owners may opt to keep it standing.
Still, Nordstrom said he'd be sad to see the iconic building go. When he posted a preemptive photo tribute to Facebook Thursday, friends and neighbors commiserated in their dismay.
— John Morris (@influxed)
Built in the early 1890s, the structure is an relic of the Queen Anne architectural style that was popular during that time. Its long spire, bay windows and steel facade give it a "whimsical" look, said Ward Miller, executive director of Preservation Chicago.
"It's picturesque in this really fanciful way, " Miller said. "It's got these beautifully elongated windows that really grab your attention and capture the imagination."
We find the following point significant grey bedroom furniture.
Now across the street from a McDonald's and surrounded by low-lying warehouses and nightclubs, the site makes a rare snapshot of what life may have looked like on Lake Street in the 19th century.
"Back then, it was this real hub of commerce, where you had all these taverns and merchants peddling their wares, " Nordstrom said. "Most of that has been wiped away, but here you have this lone survivor giving you a look into that history."
The building was saved from the brink of demolition twice in its 125-year history, Nordstrom said, including once in 1989, when it was "dilapidated" and "seemed beyond repair" before the owners of La Luce moved in and restored it.
Ward said he hoped to see a grassroots effort sprout up to save the building, possibly lobbying Ald. Walter Burnett Jr. (27th) to step in and sway the process.
But at the end of the day, he added, the decision lies with Moretti. And now that Burnett has already OK'd landmark status for Fulton Market and a home on Burton Place in River North, on top of answering pleas to save St. Boniface Church in Noble Square, some conservationists fear they may have used up their political capital.