British House Style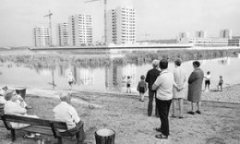 Onlookers by the lake watch the construction of Thamesmead, Greenwich, London. Photograph: Riba Library Photographs Collection/Architectural Press Archive
From Victorian terraces to modernist apartments, industrial lofts to Georgian piles, we are in thrall to period homes. Original detail – be it sash windows or iron girders – is king, so much so that we ignore the drawbacks of old houses: draughty windows, tough planning laws, and identikit layout.
According to a new exhibition that traces the history of British mass housing, there's a very good reason we love old houses: space. Period homes, compared with contemporary ones, have lots of it.
Part of the attraction is how flexible these spaces are. Victorian terraces can be divided into flats (some better than others); suburban semis can be expanded up, out and back. We can knock out walls, fit giant plasma screen TVs above fireplaces, and build into attics and basements. "We've adapted to these traditional houses well, " says Althorpe. "We want period homes, but adjust them to fit."
The creation of our vast traditional housing stock is a story of building booms followed by falling standards, changing tastes and lifestyles, improved transport, government priorities and war.
Georgian developers laid out elegant terraces and crescents that offered a genteel, 'Jane Austen' form of urban living. Layouts were spacious and standardised, adjusted according to class and income. But the industrial revolution and its accompanying population explosion led to a house building frenzy, which spiralled out of control. The result? Little regulation and squalid living conditions.
One more question remains to discuss - personalised gifts uk.
An 1875 Public Health Act required local authorities to implement building regulations: each house had to be self-contained, with its own sanitation (usually a backyard privy) and water. New standards in window size, door height, materials and street layout were set, and the terrace was born.
At the same time, reformers were rejecting cities altogether. Pioneering "industrial model villages", such as Port Sunlight or Welwyn Garden City, provided elegant cottage-style estates with green spaces outside of the city, designed to improve our physical and moral health. Vast road networks followed.
Lewisham, Suburbia, built 1920s. Photograph: John Maltby/RIBA Library Photographs Collection
A mini construction boom followed the first world war, funded by public subsidies, and by the 1930s banks were changing how they lent money, meaning people could buy their own homes more easily. This led to the building of vast new estates. Here, design was foremost: suburban houses harked back to a jumble of historical periods, from Elizabethan to arts and crafts to neo-Georgian, that are still popular today. And urban apartment blocks took their cue from sleek art deco Europe and Hollywood.
After the destruction caused by the second world war, house building was a priority. A frenzy followed in the 50s and 60s, including the development of new towns such as Basildon, Stevenage and Harlow. By the 1970s, these postwar approaches were being questioned, and mass-produced homes accused of being alienating and cold.
Alton West Estate, Roehampton, London: Lynn Chadwick's sculpture 'The Watchers' with the point blocks beyond. Photograph: John Donat/RIBA Library Photographs Collection
As people started to leave cities, developers turned to Europe for inspiration: industrial loft apartments, and waterfront, cafe-society living centred around eating, drinking and shopping, designed to entice people back to urban living. And new builds filled vast sites in and around towns. As before, rapid growth led to a falling away of standards: according to Riba, the average new home falls short of even the minimum standard of size.
It's no surprise, then, that most of us are drawn to older periods, when standards were higher. But choosing a home is more than just a practical decision, believes Althorpe. "There is an underlying nostalgia and comfort in old homes that we are drawn to, " he says.
That may be true, but there aren't enough to go round. Britain has a housing shortage. New builds are taken seriously by buyers, partly because they are seen as highly energy efficient. But they are put off by size: two thirds of people questioned by Riba who said they would never buy new, said it was because the rooms were too small.
What's the solution? We need to be more demanding as consumers, says Althorpe. "We need to ask tougher questions of estate agents – about square footage, about having enough space."
And we need more developers, with new ideas, he says. "There are lots of models of high density housing that doesn't sacrifice space – adding a single storey, using roof space in a different way. We are conditioned to believe we need back gardens, and pitched roofs, because our houses have always looked that way. But we need to think differently."
Tradition, it seems, is holding us back. In the meantime, we'll continue to buy terraces and Georgian houses like they're going out of fashion. Which perhaps they are.