Oxford sites to see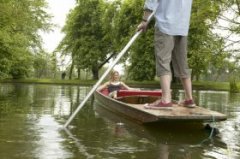 Surely you've heard of the prestigious Oxford University and its historic college campuses. But do you know what a truly great city its quaint home of Oxford, England is? Check out this list of the best things to do while on your visit to the city of dreaming spires!
1. Indulge in some retail therapy
There are some seriously great places to shop while in Oxford. Whether you're a fan of farmers' markets or luxury goods, Oxford has you covered. Head out to one of the weekly farmers' markets and you'll find some great fresh produce, or take a trip to Bicester Village where you'll find top names like Chanel and Gucci.
3. Go to a museum
Visit the first-ever public museum - the Ashmolean - with contents ranging from ancient Greek and Roman statues to Egyptian mummies to Lawrence of Arabia's robes. Or head over to the Museum of Oxford where you can learn about the very ground you stand on and some truly amazing history.
4. Go on a cycling tour
A bicycle is a wonderful way to get around Oxford, and there are plenty of cycling tours to choose from. In a 2-hour tour you'll get to see the pedestrianised central parts of the city that no bus will show you.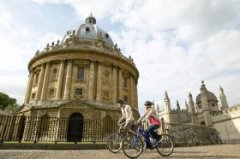 5. Go on a walking tour
If you prefer exploring on your own 2 feet, join a walking tour. Go on a guided tour, or pick up a map from the visitor centre. You can even pick a theme for your tour like science, stained glass, pubs, film locations, even 'Alice in Wonderland' which has literary links all over the city!
6. Visit one of the many parks and gardens
Have a relaxing day in one of Oxford's glorious green spaces. Head to the Oxford Botanic Garden or discover one of the gems behind the university walls. Worcester College has a lake, and Christ Church has a whole meadow!
7. Take high tea
If you're looking for a great place to have your daily cuppa, The Randolph Hotel is where you should be! Afternoon tea at The Randolph is a tradition in Oxford, and it is well-known for the delicious treats you'll be served. Don't miss out on the homemade scones with strawberry jam and clotted cream!
9. Visit Oxford Castle unlocked
Climb the Saxon St George's Tower at Oxford Castle - the city's oldest building. You'll go underground to the 900-year-old crypt, take a tour of the prison and then explore the castle in your own time. This old castle is a day of spooky fun.