Oxford Sights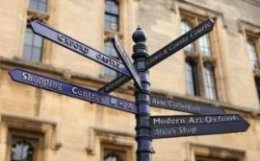 Gail Simmons, our Oxford expert, gives advice on the best things to see, do and visit in the city.

For many first-time visitors, Oxford means the university. The atmospheric, golden-stone colleges, clustered around medieval streets, are irresistible, and most travellers will want to peek inside at least one. The charm of college-hopping in Oxford is that each has its own special character – only apparent once you're inside – from the grandeur of Christ Church and Magdalen to the cosy intimacy of Corpus Christi.

Attractions abound In Oxford - and they're all within easy reach Credit: ALAMY

Most are open to visitors at varying hours and charges. The recently refurbished Ashmolean Museum of Art and Archaeology, Britain's oldest public museum, is another draw, as is the University Museum, which houses the Pitt Rivers Museum, with its collection of extraordinary finds from around the world.

These days it's not just Oxford's old favourites that are worth a visit but some newer attractions, many of them learning-related, also aimed at a younger crowd. Some of Oxford's very finest attractions are its open spaces – parks, gardens and rivers, which are just as worth visiting as its buildings and museums.
Christ Church College
If you visit just one college it must be aristocratic Christ Church, or "the House", as it's known. It's more like a country house than an educational establishment, with the porters (or "bulldogs") still sporting bowler hats. Scenes from Brideshead Revisited and Harry Potter were filmed here, and it's where Lewis Carroll, the author ofAlice in Wonderland, taught mathematics.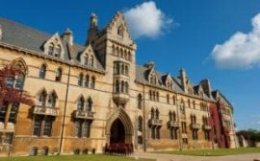 Its chapel is the city's cathedral, which opens to residents and visitors for evensong at 6pm every evening – a magical experience, especially in winter.

Christ Church is arguably Oxford's most impressive college Credit: AP/FOTOLIA

Address: St. Aldates
Contact: 50; chch.ox.ac.uk
Prices: admission charges vary, though the chapel (Oxford's cathedral) is usually free to members of Oxford diocese and visitors to evensong
Opening times: visitors are welcomed throughout the year (closed on Christmas Day). The Hall is often closed between 11.40am and 2.30pm and the Cathedral closes for choir practice every day at 4.45pm
Pitt Rivers Museum
Lieutenant-General Augustus Henry Lane Fox Pitt Rivers was an anthropologist who collected more than 20, 000 objects of scientific and cultural interest when he was posted around the British Empire. These are now housed in the Pitt Rivers Museum, a part of the University Museum crammed full of weird and wonderful knick-knacks from around the globe. Ethnic masks, items of clothing, musical instruments and jewellery are arranged by type rather than geographical area.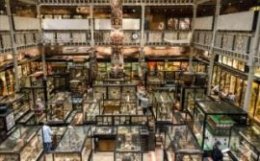 The shrunken human heads, mummies and trophy scalps are spooky hits with children.

Pitt Rivers Museum is crammed full of weird and wonderful artifacts Credit: ALAMY

Address: South Parks Road
Contact: 27; prm.ox.ac.uk
Prices: admission free
Opening times: Tues–Sun 10am-4.30pm (and bank holiday Mons); Mon 12-4.30pm
Radcliffe Square
This cobbled square is the heart of the university, formed by a trio of great architectural gems: the medieval University Church of St Mary the Virgin, the 15th-century Bodleian Library and the Palladian-style Radcliffe Camera. You can visit the ground floor of the Bodleian (known as the Divinity School), with its intricate rib vaulting; St Mary's is open to the public, with its magnificent view from the tower of college quadrangles and dreaming spires.

The Palladian-style Radcliffe Camera dominates Radcliffe Square Credit: AP/FOTOLIA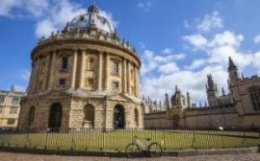 Contact: bodleian.ox.ac.uk
Botanic Garden
Down the appropriately named Rose Lane, just off the High Street, Britain's oldest botanic garden is a haven of stone-walled peace in the heart of the busy city centre. The emphasis in the formal gardens is on traditional herbal remedies and their use in modern medicine, while the heated greenhouses are a great refuge on chilly days.

Oxford's Botanic Garden is the oldest of its kind in Britain Credit: AP/FOTOLIA

Address: Rose Lane
Contact: 90; botanic-garden.ox.ac.uk
Opening times: variable opening throughout the year – check website for details
Prices: admission is £4.50 (also gives entry on the same day to Harcourt Arboretum, six miles south of Oxford)
Guided walks
The best way to see Oxford is on foot. If you don't have the time to find your own way round the second best way is to join a group guided by someone who knows its quiet cobbled back streets, narrow alleyways and secret corners. Several organisations offer this service, from professional outfits to student guides who'll also give you an insight into university life. Oxford Official Guided Walking Tours are led by guides and include an Inspector Morse tour, cost from £9 and begin outside the Tourist Information Centre in Broad Street (book in advance as groups sizes are limited: 37).
Oxbridge Tours (70; oxbridgetours.com) is a social enterprise run by students and offering cultural walking tours. With its guides all Oxford undergraduates or postgraduates, it's a chance to get an insider's view on student life in Oxford (there's a Cambridge version too). Daily tours depart from outside Balliol College on Broad Street, or you can also book a private tour.