Sustainable Architecture London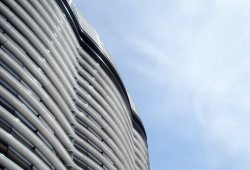 Sustainable Architecture London – Alternative London Walking Tour
Building sustainably is one of the biggest issues of our time.
But as the UK government's ambitious target to build zero carbon homes by 2016 and zero carbon non-domestic buildings by 2019 looms ever closer, what are architects and designers doing to make the capital's buildings greener?
Award-winning Insider London's alternative London walking tour takes an in-depth look at the environmentally-friendly, uplifting buildings shaping London's landscape.
From the world's first building with integrated turbines to a five-storey carbon neutral development, we'll reveal over 15 different approaches to sustainable building, showing how architects and designers are putting green measures into practice.
We'll explore which developments are winning at being green and others which are veering close to being accused of adopting green gimmicks in a bid to gain green credentials.
Starting at Bishopsgate, our expert guide will take you on a fascinating two-hour tour through the City and over the Thames uncovering London's greenest skyscrapers, structures and spaces along the way.
Our comprehensive sustainable architecture tour can be tailored to every knowledge level.
It doesn't matter whether you want to know more about London's sustainable built environment, or are an established green architect, we'll help you get the inside track – and maybe even uncover new angles – on our fun, informative tour.
Highlights
What you will discover:
London office spaces which have achieved BREEAM's 'Excellent' and almost legendary 'Outstanding' rating
An array of cutting-edge sustainable features – including a development boasting over 3, 000 square metres of solar photovoltaic panels, a building with a daily water consumption of less than 20 litres per person and a space powered by recycled cooking oil
The world's first development to have integrated wind turbines – and why they're not turned on
A futuristic building held up with reinforced plastic
A cool London landmark that's making colourful energy savings
A secret roof top oasis with space for 500 people
The policies and motivations driving developers to create greener buildings in the capital
It's not easy being green – whether it's truly possible to build a sustainable skyscraper.
What you need to know:
Where do we meet?
Our eye-opening Sustainable London Architecture Tour kicks off at Andaz Hotel, close to Liverpool Street tube station.
How long does the tour last?
The tour is approximately two-hours long
When does the tour run?
This tour is only available for private parties and can be arranged for any date or time. Furthermore, we are happy to deliver a tour programme tailored to your needs, including elements such as London's modern architecture, future architecture or the capital's most historic buildings. To book, or find out more, call 0207 183 1055, or email: contact@insider-london.co.uk