London Architecture schools
Slapped wrists for any of you who describe yourselves as a software or web architect because the profession of "architect" is one of the few protected by law. While anyone can design a building (or an IT system), you must slog through seven years of training before you can use the job title without, in theory, being prosecuted.
Students flock to London to study in the world's creative capital and earn that status. Unfortunately, they are also flocking to architecture schools that are, unlike London's fashion and fine art colleges, struggling to hold their own internationally. Of the capital's 10 architecture schools only the private Architectural Association regularly makes it into global education top tens; the honours go instead to colleges in Zurich, Tokyo, Melbourne, Copenhagen, Delft and a clutch in the US.
Our public universities' architecture departments have been cut to the bone; resources are diminishing and staff morale is in the basement as class sizes rise and fees head for £9, 000 per annum next year. Their international appeal has relied in part on London's graduate architect job market, which is now threatened by ever-tightening visa restrictions.
It's a shocking situation for a creative industry that has been one of Britain's most successful creative exports. London's great architects are emerging in spite of rather than because of its patchy architecture schools. (Conversely, the US has great architecture schools but dreary contemporary architecture.)
The London School of Architecture, England's first fully-fledged independent school of architecture for more than a century, is hoping to transform that situation. It begins recruiting students tomorrow and will be using the capital as its laboratory while aiming for study to be cost-neutral for its intake of students this autumn.
The LSA is the idea of Will Hunter, until last month the 33-year-old executive editor of The Architectural Review, and grew out of an article he once wrote on the issue. The start-up faculty is a Who's Who of the respected London architecture world with a sprinkling of glamour in the form of Nadja Swarovski — the crystal heiress who will act as the LSA's patron alongside ex-Tesco CEO Terry Leahy.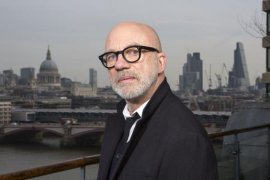 LSA teacher Nigel Coates photographed at The OXO Tower Restaurant, @OXO_Tower (Picture: Matt Writtle)
Staff include former head of architecture at the Royal College of Art, Nigel Coates; director of the Architecture Foundation, Ellis Woodman; eminent architecture historian, Alan Powers; and Professor Leon van Schaik, who put the Royal Melbourne Institute of Technology on to the architectural map. Other architects in the faculty include Deborah Saunt and Clive Sall, with Elsie Owusu among the trustees.