Cambridge Architecture School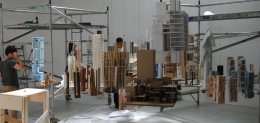 The Department of Architecture at the University of Cambridge is an exciting and stimulating place to study. Regularly lauded as one of the leading architecture schools in the world, our carefully regulated student numbers ensure that each student's progress can be closely cultivated by world-renowned researchers and ground-breaking practitioners. Our supportive community atmosphere gives students the opportunity to take risks in pushing the boundaries of the field and to extend their own abilities in exciting new directions.
We offer an exciting portfolio of degree programmes which mix design with academic rigour. Students are expected to master the technical subjects but are also expected to acquire a deep understanding of the theoretical, historical and cultural context of architecture. We believe that academic research is a central part of the architect's training and has an integral part to play in the design process: creating structures that are not just aesthetically pleasing and technically sound, but which also serve as agents of development and integration within communities.
Our graduates are recruited by world class organisations. We continue to develop strong connections through research programmes, consultancy and student placement and project schemes. We offer our students an excellent programme of training, transferable skills and careers advice. In so doing, the courses equip students with the skills, knowledge and experience needed for an architectural related career at the very highest level.
Our students leave with a deep awareness of the role played by the built environment in bringing about social, political, cultural and technological change, and our alumni have gone on to blaze trails across the landscape of design and urban planning, as well as a wide range of other careers.