City of London new buildings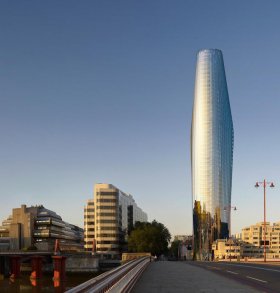 We Londoners have a strange relationship with our skyscrapers.
We make them our own: humanising them with cutesy and/or sarcastic names like 'The Gherkin' or 'The Cheesegrater'. Even when they focus car-melting death rays, as 'The Walkie-Talkie' once did, we all have a good laugh.
Maybe it's the novelty value. We don't have many tall buildings compared to most world cities. But that's about to change. According to a study carried out last year by independent forum New London Architecture, there are currently 263 buildings of twenty storeys or more planned across town. The tallest, at 262 metres, is 22 Bishopsgate, in the City, and there are another 24 proposed with 50 storeys or more. They're popping up like mushrooms. There'll probably be one called 'The Mushroom' soon. The Shard is already the tallest building in Europe. Now it's going to be joined by scores of towers, clustering around the City, east London, Docklands and the redevelopment of Battersea Power Station at Nine Elms.
In short, the skyline of our city is going to alter out of all recognition. The horizon will be so lumpy, it'll look the opening credits of 'Frasier'. There are objections to this, of course, indlucing the aesthetic (some of the planned buildings are a bit Basingstoke), the environmental (they'll block out the sun) and the infrastructural (they won't do anything to tackle London's housing shortage).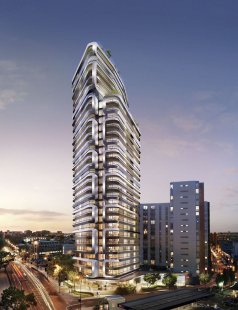 Some people will be living in them, though. Unlike most of London's existing tall buildings – from the BT Tower to the high rises of Canary Wharf – this new generation of skyscrapers is overwhelmingly residential, featuring things that we were always promised would be part of life in the twenty-first century, like vertiginous restaurants and dizzying sky gardens.
But what's the high-rise capital going to be like for the rest of us? A cool futuropolis of glittering spires interspersed with green squares and lush garden bridges? Or a paranoid, darkling, 'Blade Runner'-style dystopia? Given London's piecemeal planning past, probably a bit of both.
Either way, it's going to be fascinating. Below, we explore the good, the bad, the ugly, the exciting and the begging-for-a-nickname of high rise London.
One Blackfriars
How high? 170m, more than three Oxo Towers
Status Under construction
Due for completion 2018
Most likely to come back (less successfully) in the designs of other London towers
Destined to cause consternation among Australians and anyone who's ever seen an actual boomerang, this futuristic 50-storey monolith will soon jut out of the South Bank beside Blackfriars Bridge. Its shimmering surface and the absence of any other skyscrapers in the immediate vicinity should ensure it becomes one of the most noticeable of the city's high-rise club. When completed it will stand more than three times as tall as the neighbouring Oxo Tower. What's inside? Two-hundred-and-seventy-four seriously swanky flats. Starting at £1.15m and rising to £23m. We're talking next-level property porn – the hardcore orgy of EuroMillions fantasies.
Canaletto
How high? 97m, as tall as Big Ben
Status Under construction
Due for completion Late 2015/early 2016
Most likely to be the London pad of Mark Zuckerberg
City Road is getting a super-luxe facelift. The techy start-up kids based around Silicon Roundabout (or 'Old Street' to you and me) are helping to fuel this change, and a series of swanky apartment blocks are springing up to house them. This eye-catching skyscraper will be a neighbour to a massive twin tower development from Gherkin architects Foster + Partners. And this will no doubt be followed by others. The sky's the limit, you might say.
The Scalpel
How high? 190m, 10m taller than the Gherkin
Status Under construction
Due for completion 2017
Joining the kooky architectural quarter otherwise known as the City, this hard-edged chunk of glass will be taller than the Gherkin and will reflect its iconic neighbour in its mirrored surface. Designed as a counterpoint to the Cheesegrater, its facade will slope in the opposite direction to that of its Leadenhall Street neighbour, so as to preserve the view of St Paul's from Fleet Street. But some have suggested that the two angled buildings may end up resembling scissor blades, poised either side of the cathedral, ready to snip it. Ooh! An architectural metaphor, perhaps?
One Merchant Square, aka the Cucumber
How high? 150m, more than twice the height of Tower Bridge
Status Approved
Due for completion Late 2019/early 2020