City of London Architecture
Join us to get an in-depth view of London with our programme of year-round tours and events with specialist guides helping you look at the themes and issues shaping the capital today, from the design of homes, to infrastructure and urban landscapes.
Open-City's architecture tours help to sustain the charity as a whole. Click here to find out more about how you can support our initiatives through our Love Architecture Circle.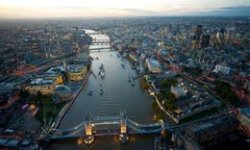 Journey down the Thames looking at iconic landmarks that make London so architecturally diverse. Led by an architect, whose in-depth knowledge guarantees deep insight and thoughtful commentary.
Architecture on the Thames Central
Saturday 15 October 1pm
Explore some of the best of London's architecture on foot with our experienced guides all working in the field of architecture and urban design.
Introductory tours with architectural photographers looking at how to effectively photograph London's architecture.
Wren to Rogers Photography Tour
Shoreditch Photography Tour
Night Photography Tour
Exclusive opportunities to tour award-winning and unique London homes with the architect and/or owner.
An Evening With Duncan Terrace
Thursday 16 November 6.30/7.45pm
Using the speed of two wheels, cycle London architecture led by ourexpert architectural guides.
Please sign up to the tours enews to hear new dates first.
Contact: Adrianna Carroll-Battaglino at tours@open-city.org.uk
Shopping for someone else but not sure what to give them? Give them the gift of choice with an Open-City gift card. They can even be redeemed against future tour dates. Purchase gift card here
Booking: No tickets are issued, your booking is confirmed on receipt of payment auto reply. Your guide will have your name and number of places on the day.
Cancellation policy: Unfortunately, we are unable to refund or transfer bookings if you choose to cancel them. If we have to cancel the tour due to unforeseen circumstances, we will offer you a full refund or the opportunity to book onto another tour.