Architecture Awards UK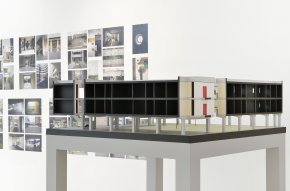 A British School at Rome Architecture Award enables architects and architectural historians to immerse themselves in this visually stunning city whilst also benefiting from the BSR's internationally-important Architectural exhibition programme and its unique residential research community.
The closing dates for residencies tenable in 2016-17 have passed, but information is given below for reference.
Scholars' Prize in Architecture
The Scholars' Prize in Architecture is an exciting and valuable opportunity for an early-career architect or post-Part II student of architecture to spend three months in Rome (living at the BSR), and be a member of a vibrant residential community of architects, artists and researchers. It enables somebody to pursue and complete a creative, intellectually coherent and focused architectural project in and based on the city of Rome or its environs. It offers accommodation in a residential studio and board, for three months, a monthly stipend, a group exhibition, and participation in a range of interdisciplinary activities, including a vibrant architecture programme.
The Scholars' Prize in Architecture has been made possible by donations from a number of former award-holders at the BSR. The impact of the residency at the BSR upon them and their careers was so strong that they wish others to be able to benefit from this remarkable possibility. The donors will be actively involved in the shortlisting. Final selection at the interview will be by members of the Faculty of the Fine Arts of the BSR.
Research area: architecture and architectural history
Open to: architects and post-Part II students of architecture.
Duration: three months (January-March 2017)
Stipend: £700 per month
Specific award criteria:
Applicants must be of British or Commonwealth nationality, or have been working professionally or studying at postgraduate level for at least the last three years in the UK or Commonwealth (i.e. since February 2013).
Applicants must complete and send the application form, and a curriculum vitae to the address give on the form by Monday 4 April (N.B. Applications by fax and e-mail will not be accepted.)
Giles Worsley Rome Fellowship
The Giles Worsley Rome Fellowship is awarded to an architect or architectural historian, to allow them to spend three months at the BSR, studying an architectural topic of their choice. The Fellowship's aim is to encourage architects and architectural historians to experience the reality of influential Italian buildings and carry out research in and around the city, while benefiting from the collegiate life of the BSR.
Giles Worsley, the distinguished architectural historian and critic, died of cancer in 2006 at the age of 44. He was an enthusiastic visitor to Italy and a great believer in the importance of Italian architecture of all periods in understanding the development of Western architecture. He was concerned that architecture schools do not give adequate emphasis to the teaching of architectural history and that architectural historians should be encouraged to experience the reality of influential Italian buildings.
Open to: architects and architectural historians. Normally applicants should have recently completed a post-graduate qualification.
Duration: three months (October to December 2016)
Travel grant: £180
Stipend: £700 per month
Applicants must have British nationality or have been living and studying in Britain for at least the last three years.
The Fellow will be required to deliver a public presentation on their research on their return.
The project proposed for the Fellowship should be an end in itself, rather than a means to an end.
Selection for this Fellowship is by a panel formed of representatives of the RIBA, the British School at Rome and the Worsley family.
Applicants must complete an application form, and provide a curriculum vitae, a statement of 500–700 words indicating the subject of their proposal and their suitability for the Fellowship, and the names and addresses of two referees. They should ask the two referees to send a reference in support of their application