LEED Architecture firms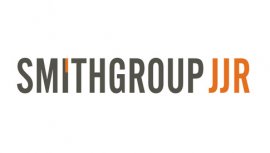 Kicks off "50 for 50" volunteer program to celebrate milestone
For SmithGroup, one of the nation's leading sustainable design firms, the struggling economy hasn't dampened its clients desire for "green, " environmentally friendly buildings.
This month SmithGroup celebrated achieving its 50th LEED certified project, a LEED-CS Platinum renovation and addition to the 1200 19th Street NW, building in Washington, DC. With the milestone, SmithGroup becomes one of just a handful of design firms that have reached such heights.
SmithGroup estimates its LEED certified projects will total somewhere between 60 and 65 by the end of 2010, making the year its biggest so far for projects certified by the U.S. Green Building Council's LEED certification program.
Many of the 157-year-old architecture and engineering firm's diverse clients - which entail some of the nation's leading colleges and universities, healthcare providers, corporations, research institutions, and developers - are realizing that sustainable design provides energy savings as well as increased employee productivity and happier, healthier workers.
"Most of our clients are now proactively asking for sustainable design solutions, " says Greg Mella, AIA, LEED AP, co-director of sustainable design at SmithGroup. "Clients have realized that green design is good design."
However, SmithGroup hasn't waited around for its clients to ask. In recent years the firm decided to step up its dedication to sustainability and incorporate sustainable design solutions into all its projects, whether the client wanted to pursue LEED registration or not. In the case of the new Clinical & Translational Research Building at the University of Louisville, the client did not consider LEED Certification until partway through construction. Because SmithGroup designers integrated sustainability into the project early in the design - measures like providing daylight to 75% of occupied spaces and selecting eco-friendly and recyclable materials - the client not only met the certification goal, but also exceeded it by achieving LEED Gold Certification in February of this year.
Sustainable design has always been central to SmithGroup's corporate culture and sense of professional responsibility. The firm's green background is impressive: In 2000, its design of the headquarters for the Chesapeake Bay Foundation's Philip Merrill Environmental Center in Annapolis, Maryland was the first to receive the USGBC's top LEED rating of Platinum. It was quickly dubbed "the greenest office building in America."
Later in the decade, SmithGroup earned other green firsts: its design of the Science and Technology facility at the U.S. Department of Energy's National Renewable Energy Laboratory in Golden, Colorado, in 2007 became the first federal government building to attain LEED Platinum status. In 2008, SmithGroup's design of the Christman Building in Lansing, Michigan propelled it to become the world's first dual LEED Platinum project, achieving both LEED-CI (Commercial Interiors) and LEED-CS (Core and Shell) Platinum ratings.
Mella gives credit to SmithGroup's culture and the tools and software its designers utilize to make sustainable design second nature. Nearly one half of SmithGroup employees - 326 of 800 of its architects, engineers, interior designers, planners and landscape architects - are now LEED accredited professionals.
Upwards trends are for more green hospitals, healthcare facilities and research laboratories, says SmithGroup. These complex building types are notoriously huge consumers of energy.
"Our healthcare and research clients are realizing that sustainable design does not compromise, but rather enhances safety and well-being, says Russell Perry, FAIA, LEED AP, co-director of Sustainable Design at SmithGroup. The firm is currently the architect for the nearly one-million-square foot California Pacific Medical Center Cathedral Hill Hospital in San Francisco for Sutter Health, which is targeting LEED Gold when completed in 2015.