Architecture Firm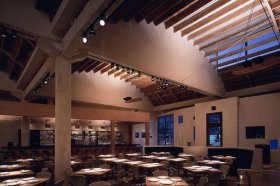 The panel at AIASF on Thursday night, from left: Mark Cavagnero, Melissa Werner, Cass Calder Smith, Sylvia Kwan, and Samuel Fajner.
1. Who are you?
Before you start churning out press releases and wooing clients, "the first thing you need to do to define your brand is actually to define what you want to be when you grow up, " says Sam Fajner. "You have to believe in what you do and find your passion, because if you don't find your passion, you're not going to be able to communicate that."
2. Socialize with the clients you want
Running your own firm means you're on around the clock. "It's not a separation anymore of work and after-work—it's more that you're living your social life around where you want to be, " says Melissa Werner. "Don't think of work as a nine-to-five job. Where are you going to be after work?" Cass Calder Smith says he's found commissions designing houses in the Hamptons by hanging out there. "But you can't be in marketing mode" he says. "You have to be in cool guy mode." Fajner agrees: "It's about being yourself. People will appreciate that. They'll see right through the salesperson."
Sylvia Kwan offers one caveat, though: None of the above applies to public projects for institutional, government, or educational clients. "Nowadays with all these ethics laws and sunshine laws, and everything these public clients have to sign, they're so scared sometimes of even having lunch with you, " she says. "So that whole socialization thing comes much, much later."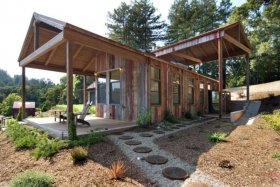 3. Find out what your city offers to local or minority-owned businesses
In San Francisco, you can register with the city as a Local Business Enterprise (LBE), which gets you a listing on the LBE directory as well as a means of finding out about upcoming city-funded contracts open for bid. Many projects backed by government money are required to contract a certain percentage of the work to businesses in the directory, so this is one (maybe the only!) scenario where you can rationally hope for a cold call. Registering can also open the door to collaborations with established firms. "Partnering with larger firms is a great way to get involved in larger projects, " says Fajner.
4. Ask for advice
"Pick up the phone, select five firms that you admire, " says Fajner. "Call the CEO and say, 'This is my name, I'm 25 years old, and I want to start my firm. I know that you started your firm 20 years ago; I really would like to have a conversation with you and understand what you went through, what were your struggles, what are the lessons learned, what are the mistakes that you did that you can save me from making?' You'd be surprised at how many people would be receptive to that call."
5. Budget time for marketing and business development
When you're a tiny firm of one or two, "marketing" can sound like a luxurious thing for other people. But no matter your situation, getting the word out about who you are and what you do is essential. "As soon as you can, you need to get publishable work, " says Smith. "From a financial standpoint, budget for that: think about where you're going to spend your money. Trying to get a residential remodel published is a lot harder than a ground-up house. Sometimes you don't want to try to do things too hard."
Smith recommends looking at growth as just one more design mandate. "We're all trained to be creative problem solvers, " he says. "At the same time, somehow we put bookends on it; I find a lot of us don't use it for ourselves in marketing ways or creative ways. You should slow down every now and then and go, 'I'm a trained creative person. This is what I do: I solve problems. So I'm going to apply that to my marketing situation."
Add To Collection Save this image to a collection
Completed in 1992, Restaurant LuLu in San Francisco helped CCS Architecture secure its reputation as a firm with restaurant and hospitality expertise. Photo courtesy of CCS Architecture