Glasgow University website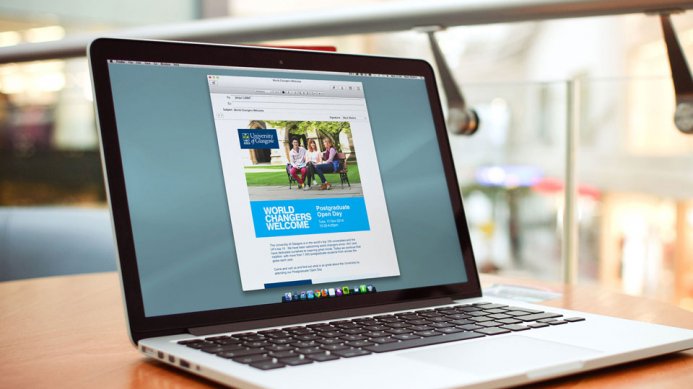 You will explore all aspects of literature in English, benefiting from our expertise in a wide range of areas, including American, Irish and postcolonial literatures, critical theory, creative writing, and the relationship between literature and other arts, media and science.
In choosing English Literature at Glasgow, you will be studying at one of the oldest, largest and most dynamic centres for the study of literature in the world.
Year 1
Level 1 courses in English Literature will provide you with the knowledge and critical and creative skills that form the bedrock for the study of English Literature.
You will develop skills in independent writing and in analysing and arguing about literature, and gain insights into how speaking and performing texts enhances literary study.
Poetry and poetics introduces you to the study of poetry, of what has been written about it, and how it is performed and reproduced. Prescribed texts include anthologies of poetry and literary criticism, one play, and a handbook on studying poetry. The course includes a poetry writing competition and an open mic forum. Novel and narratology addresses the novel form in English and theories of narrative and its cultural effects.
There are also opportunities to develop creative skills in writing fiction, including a flash fiction competition.
Year 2
In second year you will build on your reading and analytical skills, examining the relationship between literary texts and their historical, cultural and political contexts (Writing and ideology), and their formal features and techniques (Writing and text). You will be reading and writing on novels, short stories, tales, poems, plays, essays and manifestos from the medieval period to the present day.
Years 3 and 4
If you progress to Honours (years 3 and 4) you will have scope for advanced study of the major literary periods, as well as the opportunity to choose from a wide variety of courses in a number of specialist fields, including Irish literature, literary theory, postcolonial literatures, contemporary writing, fantasy and science fiction, poetry and the avant-garde, children's literature, and many others.
Our international links
Glasgow is partnered with many universities in Europe, the USA and Canada, as well as further afield, in New Zealand, Australia and Malaysia.
A-levels
Standard academic entry requirements: AAB.
Minimum academic entry requirements: BBB.
Other mandatory requirements: Must include at least one arts, humanities or language subject. Applicants wishing to study Mathematics or Computing Science as part of their degree will require A-level Maths at Grades A or B.
Highers
Standard academic entry requirements: S5 entry requirement = AAAA/AAABB. S6 entry requirement = AAAAAB (S6 entry requirements only apply to applicants who achieved the minimum S5 requirements and have been made a conditional offer).
Minimum academic entry requirements: Applicants who achieve less than AAAA or AAABB in S5 but have achieved at least ABBB MAY receive an offer based on S6 results. A decision will be made in March 2017 once all applications have been reviewed.
Other mandatory requirements: Must include English and a humanities subject or language at Grades A/B or B/A. Applicants wishing to study Mathematics or Computing Science as part of their degree will require Maths at Grades A or B.
We adjust these entry requirements for eligible applicants, from AABB at S5/S6, based upon completion of a pre-entry programme. For pre-entry programme eligibility and adjusted grade requirements, see Access Glasgow.
Higher applicants to Arts MA degrees must attain, or have attained, grades A/B or B/A at Higher in English Higher and another humanities/language/social science Higher subject at their first sitting to have their application considered. The accepted humanities/languages/social science Higher subjects are listed below:
Business Management
Cantonese
Classical studies
Drama
Economics
English
English for Speakers of Other Languages
French
Gaelic
Geography
German
History
Italian
Latin
Mandarin
Media
Modern Studies
Music
Philosophy
Politics
Psychology
Religious Education
Religious Moral and Philosophical Studies
Sociology
Spanish
Urdu
International Baccalaureate
Standard academic entry requirements: 36 points.
Minimum academic entry requirements: 34 points.
Other mandatory requirements: Must include three HL subjects at 6, 6, 5 including English AND a humanities subject (or language). While HL6 is preferred for English and Humanities/Language subjects, SL6 will be considered for ONE of the subjects. Applicants wishing to study Mathematics or Computing Science as optional subjects require Mathematics at HL6 or SL6.
European qualifications
Typical entry requirements for European qualifications: [pdf]
A-level and IB applicants can expect offers to be between the minimum and standard entry requirements depending on demand for places on the degree.
Please note: all A-Level, International Baccalaureate, and other EU entry requirements must be achieved in first sitting.
For applicants whose first language is not English, the University sets a minimum English Language proficiency level.
International English Language Testing System (IELTS) Academic module (not General Training):
overall score 6.5
no sub-test less than 6.0
or equivalent scores in another recognised qualification (see below)
Common equivalent English language qualifications:
ibTOEFL*: 90; no sub-test less than: Reading: 20; Listening: 19; Speaking: 19; Writing: 23

CAE (Cambridge Certificate of Advanced English): 176 overall: no sub-test less than 169
CPE (Cambridge Certificate of Proficiency in English): 176 overall: no sub-test less than 169
PTE Academic (Pearson Test of English, Academic test): 60; no sub-test less than 59
IGCSE: English language: B minimum
Trinity College London Integrated Skills in English: ISEII at Distinction with Distinction in all sub-tests
* Please note that TOEFL is still acceptable for admission to this programme for both home/EU and international students.
For international students, the Home Office has confirmed that the University can choose to use TOEFL to make its own assessment of English language ability for visa applications to degree level courses. We therefore still accept TOEFL tests taken in the last two years for admission to this programme.
Pre-sessional courses
The University of Glasgow accepts evidence of the required language level from the English for Academic Study Unit Pre-sessional courses. We also consider other BALEAP accredited pre-sessional courses:
What do I do if...
my language qualifications are not listed here?