New England architecture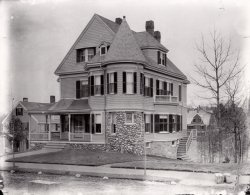 New England Chapter/Society of Architectural Historians
ANNIE M. COBB ARCHITECTURAL WALKING TOUR
Newton Highlands, MA
Saturday, April 16 at 2PM
Meet at the corner of Forest Street and Chester Street, Newton Highlands, MA
Please join us on Saturday, April 16th for a tour led by architectural designer Laura Fitzmaurice of houses designed by Annie M. Cobb (1830-1911). Cobb was a real estate speculator who made the crucial transition from building homes from carpenter books to designing houses herself and thus becoming, it can be argued, America's first woman architect of the pre-professional period. After learning the building trade in South Boston in the 1850's, Cobb began purchasing land in the emerging railroad suburb of Newton Highlands in 1872 where she eventually constructed 16 houses and 2 additions. In 1893, at the height of her career, Annie Cobb was only one of five women architects to exhibit in the Woman's Building at the Chicago's World's Fair. This tour will focus primarily on her larger houses which encompass the Stick, Queen Anne and the Shingle styles.
Professor of Landscape Architecture and Planning, MIT
Public park systems are a measure of a healthy and functional society, an uncommon commitment to the common good. This talk will trace the symbolism and significance of public parks, from Frederick Law Olmsted's seminal 1865 Yosemite Report to the present day, as a recurring expression of national and community renewal.
6:00 pm reception 7:00 pm lecture
43 Hawes Street, Wheelock College, Brookline
Admission is free; space is limited; registration required
Rolf Diamant is a writer, historian, and adjunct associate professor at the University of Vermont's Rubenstein School of Environment and Natural Resources. A former superintendent of Frederick Law Olmsted National Historic Site, Rolf enjoyed a 37-year career with the National Park Service as a landscape architect, planner, and park manager. He is past president of the George Wright Society and his column, "Letter from Woodstock, " addressing the future of national parks, appears regularly in the society's journal.
NEW ENGLAND SOCIETY OF ARCHITECTURAL HISTORIANS
Northeastern University
Behrakis Health Sciences Center Room 310 (3rd floor)
30 Leon Street, Boston, MA
Parking Available in West Parking Garage, Leon Street
6:00pm Business Meeting followed by lecture by
Timothy R. Rohan on his recently published book:
The Architecture of Paul Rudolph
Equally admired and maligned for his remarkable Brutalist buildings, Paul Rudolph (1918-1997) shaped both late modernist architecture and a generation of architects while chairing Yale's department of architecture from 1958 to 1965. Based on extensive research and unpublished materials, The Architecture of Paul Rudolph (Yale University Press, 2014) is the first in-depth study of the architect, neglected since his postwar zenith.
Author Timothy M. Rohan unearths the ideas that informed Rudolph's architecture, from his Florida beach houses of the 1940s to his concrete buildings of the 1960s to his lesser-known East Asian skyscrapers of the 1990s. Situating Rudolph within the architectural discourse of his day, Rohan shows how Rudolph countered the perceived monotony of the glass curtain-walled International Style with a dramatically expressive architecture for postwar America, exemplified by his Yale Art and Architecture Building of 1963, famously clad in corrugated concrete.
Timothy M. Rohan is associate professor in the Department of the History of Art and Architecture at UMass Amherst. He has written articles for Grey Room, Casabella, Journal of the Society of Architectural Historians and other publications. His new research concerns late twentieth-century Manhattan interiors.