Sites in Edinburgh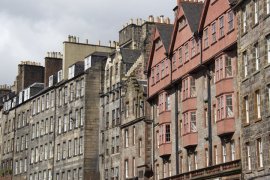 1 The Royal Mile
The Royal Mile refers to the road linking Edinburgh Castle and the Palace of Holyroodhouse. Lined with charming townhouses and historic landmarks, this splendid thoroughfare is a great first stop in Edinburgh with its fine shops (including kilt makers), numerous inns, museums, cafés and restaurants. Many of the buildings are tall, averaging six to 15-stories and referred to locally as "lands". Narrow little alleys, called "winds" with the hidden backyards "closes", weave in and around them.
Some of the most popular attractions are to be found at the upper end of the Royal Mile - commonly called Castle Hill - and include Outlook Tower and the Camera Obscura with its outstanding views; the Tolbooth (St John's Highland Church) with the city's tallest church tower; Gladstone's Land, a six-story merchant's house with pretty ceiling paintings and original furniture; and Lady Stair's Close, home to the Writer's Museum displaying manuscripts, portraits, etchings and memorabilia of the poet Robert Burns and writers Sir Walter Scott and Robert Louis Stevenson.
2 Edinburgh Castle
Scotland's most famous landmark, Edinburgh Castle is one of Britain's most visited tourist attractions. Highlights include the One O'clock Salute from Half Moon Battery (cannon fire commemorates the tradition of helping ships synchronize their clocks); the impressive Scottish National War Memorial; and the stunning collection of Crown Jewels housed in the Royal Palace. Another notable feature is the Stone of Destiny (aka, the Stone of Scone), famously stolen by Edward I and placed under the English throne in London - only returned to Scotland 700 years later in 1996.
If you want to save time, consider purchasing a, so you can spend more time touring the castle instead of waiting in the long lines.
Address: Castle hill, Edinburgh
3 Palace of Holyroodhouse and Holyrood Abbey
Palace of Holyroodhouse and Holyrood Abbey
The Palace of Holyroodhouse is the Queen's official Edinburgh residence and has frequently been at the center of Scottish history: it was where James II and James IV were each married, where James V and Charles I were crowned, and where "Bonnie Prince Charlie" held court in 1745. When the Queen's away, public access is permitted to the stunning Historic Apartments (former home of Mary Queen of Scots) and the State Apartments, famous for their fine furnishings, tapestries and plasterwork.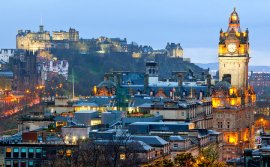 The Great Gallery is also worthy of a mention with its portraits of Scottish kings, both legendary and real. Tours are also available of neighboring 12th century Holyrood Abbey, founded by King David I. Afterwards, be sure to snap a shot of the lovely Holyroodhouse Fountain outside the palace.
Hours: 9:30am-6pm (Apr-Oct); 9:30am-4:30pm (Nov-Mar)
Admission: Adults £16; Children (under 17), £9 (under 5, free); Families, £41
Location: Royal Mile, Edinburgh
Palace of Holyroodhouse Map
4 Holyrood Park: Arthur's Seat and the Salisbury Crags
Holyrood Park: Arthur's Seat and the Salisbury Crags
At 820 ft, Arthur's Seat is the highest point in the 640-acre Holyrood Park. The spectacular sightseeing views from the top encompass the whole city all the way to the mouth of the Forth. (The easiest way up is from the park's Dunsapie Loch.) Also an easy climb are the dramatic Salisbury Crags, a series of 151 ft cliffs adjacent to Arthur's Seat. Other features in this huge park are the ancient cultivation terraces - some of the earliest and best-preserved examples of ancient farming practices in Scotland, and the picturesque ruins of the medieval St Anthony's Chapel.
5 St Giles Cathedral
Consecrated in 1243, St Giles Cathedral is Edinburgh's principal church. The 161 ft central tower with its eight arched buttresses forms a huge crown (the Crown Steeple) and is a favorite backdrop for photos. Interior highlights include memorials to the dead of WWI, lovely stained glass windows, and a statue of John Knox, leader of the Protestant Reformation (his former home, 45 High St, is close by and contains a museum and related artifacts). The Thistle Chapel is known for its marvelous oak carvings, heraldic emblems and seals of the "Knights of the Thistle" (Scotland's oldest order of knights). Sir Robert Lorimer designed the chapel in 1911, and it is a superb example of modern Gothic style.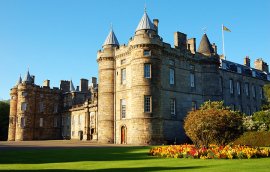 St.Giles Cathedral Map
6 The Royal Botanic Garden
Edinburgh's Royal Botanic Garden is the second oldest such garden in Britain. Within its magnificent 70-acres are a herbarium and Britain's biggest palm house, a tropical house with exotic orchids, an alpine house, a terraced moorland garden, a heather garden, and an extensive arboretum with rare giant trees from the Himalayas, North America and China. Other highlights are the woodland garden with its colorful azaleas, hydrangeas, camellias and rhododendrons; an aquatic house with tropical water plants such as the pink water lily from India; and touring displays in the Exhibition Hall.
Hours: Daily, 10am-5pm
Admission: Garden - Free; Glasshoues - Adults, £5; Children (15 and under), Free
Address: 20A Inverleith Row, Edinburgh
7 National Museum of Scotland
National Museum of Scotland
Since opening in 2011, the National Museum has become one of Scotland's most popular attractions with close to two million visitors each year. It incorporates collections from a number of Edinburgh's older museums. Highlights include national archaeological collections, medieval artifacts, plus displays focusing on natural history, geology, art, science and technology. Among the 16 galleries, the most interesting of more than 8, 000 artifacts on display include Dolly the sheep, the world's first cloned mammal, as well as some of Elton John's more elaborate stage costumes. Traditional museum displays include material from Ancient Egypt, and the infamous Maiden, an early form of guillotine.
Admission: Free
Address: Chambers St, Edinburgh
8 Princes Street
Busy Princes Street is Edinburgh New Town's main thoroughfare. It extends for almost a mile and is lined with colorful gardens and elegant shops, including the tradition-conscious Jenners of Edinburgh, the world's oldest independent department store. House of Frasers at the western end is also quite grand, while Princes Mall with its small shops set among fountains and cafés offers goods of varying quality. As well as these temples to consumerism, Princes Street boasts several reputable hotels and restaurants, from fast food to gourmet bistros.
Of interest to those keen on genealogy is New Register House, home to the Scottish National Archives, some of which date from the 13th century. Princes Street's historic landmarks include the 200 ft tall Sir Walter Scott Monument, and the David Livingstone Memorial, a memorial to the missionary and African explorer. When you're done with all that shopping and history, head for Princes Street Gardens - home to the world's oldest floral clock (1903).
9 Art City: The National Galleries of Scotland
Art City: The National Galleries of Scotland
Paintings of Scotland's leading historic figures from the 16th century to the present day can be seen in the National Portrait Gallery, one of Edinburgh's three major art galleries. The highlight of the gallery's 65, 000-plus pieces is the huge processional frieze showing Scotland's most famous personalities, including Robbie Burns, Sir Walter Scott, Sean Connery, Robert Louis Stevenson, Mary Stuart and Bonnie Prince Charlie, among others. The second major art collection is housed in the Scottish National Gallery, which boasts Scotland's biggest collection of European paintings and sculptures, beginning with the Renaissance and including some Post-Impressionists.