Best Modern Architecture

When you hail from one of the magnificent capital cities of New England, such as Boston or, in my case, Providence, Rhode Island, it's sometimes a little hard to admit that there are worthy architectural landmarks anywhere else. But on a recent trip to Raleigh, North Carolina, I discovered what might be one of America's greatest examples of modern architecture: Dorton Arena, the former livestock pavilion at the North Carolina State Fairgrounds.

Another view of Dorton Arena.

William Morgan

Although cattle-judging long ago moved to new quarters, Dorton Arena seats more than 7, 000 spectators; it has been home to football, basketball, pro wrestling, and hockey (it was home to the Raleigh Ice Caps for most of the 1990s). It has hosted various college and high school graduations, as well as concerts. (The Supremes, the Beach Boys, the Four Seasons, Johnny Cash, and Ray Charles all played here.) The day I visited, it was set up for an extreme bicycle competition.

Dorton Arena during an extreme biking competition.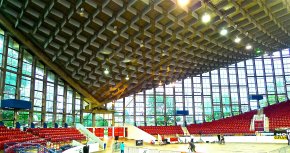 William Morgan

Dorton Arena's interior, filled with natural light.

Built in 1952, the arena sharply contrasted with the existing Spanish Colonial stucco and red-tile fair structures built in 1928. State fair manager J.S. Dorton insisted that the new building should be the most modern in the world, and like much bold modern architecture, the arena is an engineering marvel. It is comprised of two reinforced concrete parabolic arches, between which is suspended a saddle-shaped roof. This meant that the entire unencumbered floor space could be open, while the nonbearing glazed walls admit incredible amounts of natural light. Best of all, the roof appears to float.

I had first encountered the livestock pavilion in an architecture class, where my professor waxed poetic about this dramatic modern building, noting that had its designer, Matthew Nowicki, not been killed in a plane crash, he would have become one of the outstanding avant-garde architects of the 20th century.

Born Maciej Nowicki in Siberia, he was trained in Poland. During World War II he was one of the architects who secretly and heroically documented Warsaw's built legacy before the Nazis leveled it. After the war, he came to New York and worked on the design of the United Nations building, along with architectural luminaries such as Le Corbusier and Oscar Niemeyer.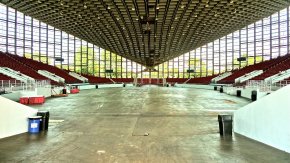 Not wishing to return to Communist Poland, he joined the architecture faculty at North Carolina State University, which became one of the leading modernist schools of design in the country. At the time of his death, Nowicki was the chief architect for the new Punjabi capital of Chandigarh in India, a post that was then given to Le Corbusier.

Dorton Arena

Sixty-five years after its completion, Dorton Arena shows the effects of constant use. Even so, being inside is as exciting as experiencing some of the most notable Olympics structures, such as the Palazzetto dello Sport in Rome by Pier Luigi Nervi of 1960 or the Aquatics Center by Zaha Hadid for the 2012 London Olympics. And beyond sports and cultural events, Nowicki's Raleigh pavilion bears positive comparison with some of the magnificent grand spaces of history—the Pantheon in Rome, France's Amiens Cathedral, and the original Pennsylvania Station in New York.

Although pretty much taken for granted in a capital city that has choked itself with unbridled and hideous suburban development, the former livestock-judging pavilion should be treasured. This architectural wonder also stands as a testament to North Carolina's golden age, when it was emerging from depression and world war to become the symbol of a progressive New South—a leader in education and modern architecture.