Todd Architects Belfast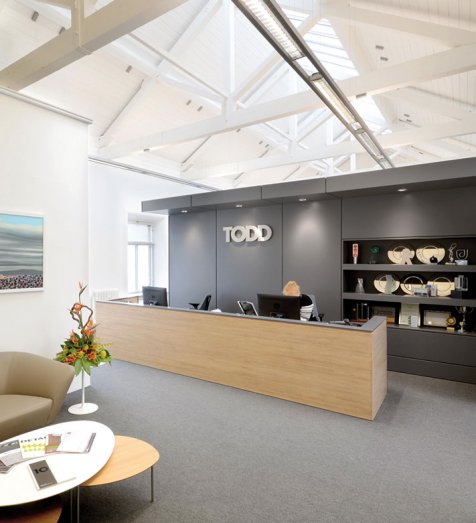 Our company was established in Belfast by Barrie Todd in the challenging climate of the late 1970's, and we have now grown to become the largest locally owned architectural practice in Northern Ireland.
Whilst we carry out work across the British Isles and overseas, our Belfast office still sits at the heart of our organisation.
Our studios are located within workspace the practice refurbished in Titanic House, the listed former Harland & Wolff headquarters in Titanic Quarter – where the practice has been heavily engaged over the past ten years.
We employ some fifty professional, technical and support staff within the office and carry expertise across a broad range of areas, working for both private and public sector clients.
We have been responsible for some of the most critically acclaimed buildings in the province and have contributed significantly to the ongoing urban regeneration of Belfast.
Our completed and current projects include:
The iconic, and globally recognised tourist and visitor attraction, Titanic Belfast
Six multi-award winning primary care centres located across Belfast.
Northern Ireland's first eco-village at Brokerstown in Lisburn.
The new Belfast Waterfront Conference and Exhibition Centre
Major acute healthcare facilities within the Royal Victoria, Mater, Ulster, Altnagelvin, Antrim and Craigavon Hospitals, as well as the new Local Enhanced Hospital in Omagh.
Major office developments and workplace contracts across Belfast, including Invest Northern Ireland's HQ, Belfast City Council's offices, Citi Group's HQ, the Public Record Office for Northern Ireland and Pinsent Mason's local office.
A multiplicity of projects for both Queen's University and Ulster University – including the latter's Belfast Campus redevelopment.
We remain committed to consolidating and indeed expanding our base in Northern Ireland.
We have worked extremely hard to develop our reputation for the quality of our design solutions and our service – both of which we can bring to the benefit of local clients and those now looking to the province for new opportunities and business expansion plans.