Assembly Rooms, Belfast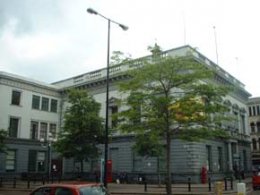 Of the many commercial buildings that reflect life in 18th century Belfast the one that stands out the most is the Exchange and Assembly Rooms, until recently the Northern Bank. It stands on the corner of North St and Waring St.
1769 - The Earl of Donegall, an absentee landlord, celebrating the birth of his son George Augustus, paid £4, 000 for the building of a single storey building called "The Exchange "
1776 -The Earl added a second storey, designed by the distinguished London architect Sir Robert Taylor, known as "the Assembly Rooms". This new addition cost the Earl £7, 000, but being one of the biggest landlords in Ireland and the owner of the town of Belfast he could well afford it.
1783 - The Earl of Donegall, as Colonel of the Belfast Battalion of Volunteers (equal to today's reserve army) hosted a reception for 360 guests in the Assembly Rooms.
1785 - The first meeting of the "Corporation for Preserving and Improving the Port of Belfast" (now the Harbour Commissioners) was held in the Assembly Rooms.
1786 - There was an abortive attempt to set up a "Belfast Slaveship Company" by a group of Belfast merchants lead by Waddell Cunningham. (Cuningham had made his fortune in New York before returning home to Belfast.) Thomas McCabe, whose premises were just across the road at 6 North St., denounced this vile idea and the proposition was defeated.*
*Thomas McCabe was a successful watchmaker and was also a member of the United Irishmen . His house stood on what is now St Malachy's College on the present day Antrim Road. The meetings to plan the attack on Antrim in the 1798 uprising were held in his house. His shop in North St was repeatedly attacked by government troops because of his involvement with the United Irishmen.