Venues London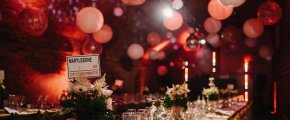 Whole Venue at Kachette
Shoreditch 4500 ft sq Upto 300 Disabled Access
Kachette's exposed Victorian brick arches make for an unusual and excellent space for a wedding reception for up to 350 guests (100 for ceremonies and dining, plus 200 guests for the after party). The space is ideal for a couple who are looking for somewhere a bit different to hold their big party. Situated in an excellent location, Kachette is the perfect Shoreditch Weddings venue. Ceremonies and refreshments are typically held in Arch 1 which is then quickly turned around into the dance area while guests are having their meal in Arch 2. Take a VIRTUAL TOUR here -
Prices Starting From £4000
De Montfort Suite at Town Hall Hotel
Bethnal Green 155 m sq Upto 100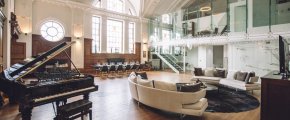 The De Montfort Suite is a triple height space with enormous arched windows, stained glass panels and original artwork by Henry Poole. Like the rest of Town Hall hotel, it combines architectural splendour with contemporary design. It features its own kitchen and works extremely well for small wedding receptions. Bespoke packages available based on your requirements. Please enquire via Hire Space for pricing.
The Conservatory at Barbican Centre
City of London 1000 ft sq Upto 150 Disabled Access
The Conservatory at the Barbican is one of the most unusual venues in London for weddings. The space is a tropical utopia, get married among 2000 species of tropical plants and above 100's of species of tropical fish. The Conservatory is licensed to host wedding and civil partnership ceremonies.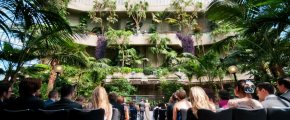 Prices Starting From £3000
Argyll Room and Terrace at No. 4 Hamilton Place
Mayfair 125 m sq Upto 200 Disabled Access
One of London's most beautiful locations on Park Lane with a superb, private terrace it is a wonderful wedding venue. The Edwardian elegance and style of the town house makes it a perfect setting for your special day. No.4 Hamilton Place offers an array of ornate and spacious rooms for a ceremony, wedding breakfast, reception or party in a perfect location; Mayfair, central London.
Prices Starting From £2400
Garden Atrium at Geffrye Museum
Hoxton 195 m sq Upto 250 Disabled Access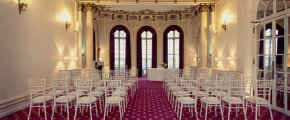 A lovely space for wedding receptions, the Garden Atrium has area for drinking, dining and dancing with views of the museum's period gardens and access to the 20th Century galleries included in the hire. Our in-house caterers can accommodate any requests with their locally sourced, seasonal produce.
Queen's Tower Rooms at Imperial College Sherfield Building
South Kensington 300 m sq Upto 300 Disabled Access
This contemporary space boasts a glass front and terrace, which is perfect for warmer days. With the flexibility to divide the space into three different areas, it's a blank canvass which is adaptable for a wide range of events including smaller drinks receptions, exhibitions, corporate parties and private dinners.
Prices Starting From £52 per person
Whole Venue Exclusive at 41 Portland Place
Marylebone 400 m sq Upto 350 Disabled Access
A private Georgian townhouse set in the heart of Marylebone, close to Regents Park. 41 Portland Place is available for exclusive hire for wedding receptions on Saturday's and Sunday's. The Reception Rom and Terrace provide an ideal location for reception drinks and the Council Chamber provides an elegant backdrop for private dining for up to 73 guests. Two bridal suites are also available within the venue. Wedding reception packages are available from £150 per person. Dry hire is available with a kitchen buy out fee of £2, 500 + VAT and a dry hire damages deposit is required.