Pictures of London attractions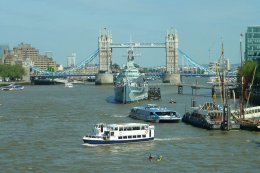 The British Museum.
This is the world's oldest museum, begun in 1753 and embracing items of interest going back 6, 000 years. Popular attractions include spectacular works from Ancient Egypt, Assyria, Greece, Mexico, Rome, Japan, China, India, Africa. Displays include statues, carvings, indigenous art and artefacts, coins, prints and drawings. Massive, varied, well-presented and free, the British Museum should be on any tourist list of top things to do in London.
The V&A café, a work of decorative art in itself, quite apart from the staggering quantity of extraordinary and historic items on display.
Also known as the V & A, 'the world's greatest museum of art and design' houses a fantastically diverse selection of decorative arts from around the world accumulated over hundreds of years, but with an emphasis on Europe's Medieval and Renaissance periods.
Some think the best art gallery in London is the National Gallery but we amateur art-loverts beg to differ. Our vote goes to this relaxed, fascinating Tate Britain. Note that this is NOT the same as the upstart sibling Tate Modern that we think is one of the worst galleries.
The River Thames with Tower Bridge, HMS Belfast warship (a tourist attraction) and various ferries including two Thames Clippers (low and blue on the right and far left). The right side is the South Bank of the river.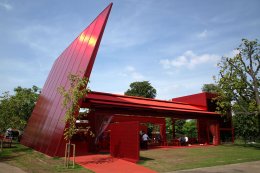 On a fine summer day this is a wonderful, almost traffic free walk beside the Thames River, popularly starting/finishing at Westminster Bridge and the London Eye or perhaps crossing on the Hungerford Bridge from Charing Cross/Trafalgar Square. A South Bank walk will meander past the lively but unattractive National Theatre, Royal Festival Hall, Gabriel's Wharf bars and restaurants, Hay's Galleria, the Tate Modern (turn left onto the Millennium Bridge to visit St Paul's Cathedral) and Shakespeare's Globe among other things, finishing/starting at Tower Bridge or cross it to see the Tower of London.
The London Eye, the city's most popular pay-for attraction.
South Bank, near Westminster Bridge.
Until recently the world's biggest observation wheel the London Eye (135m high) carries 3. 5 million people a year and is one of London's top five attractions.
On a fine day passengers can see up to 40kms (25 miles) around, as far as Windsor Castle on the edge of the city. Each rotation takes 30 minutes and travels slow enough that passengers can board without the wheel stopping.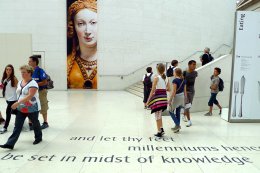 This Victorian edifice offers a superb, family-friendly look at nature over the last few million years, with plenty of hands-on exhibits. Within 100m are the Science Museum and Victoria and Albert Museum.
Westminster Abbey's nave.
Founded in the 11th century by Edward the Confessor – who's also buried there along with 16 other Kings and Queens – the Abbey's stunning Gothic architecture has played host to great royal moments over the centuries – including the coronation of Elizabeth II, the funeral of Princess Diana and more recently the wedding of Prince William and Kate Middleton.
Apart from hosting royal reality shows the Abbey is also home to dazzling stained glass, grand paintings and the rich and famous dead or if they're not actually buried there then a dramatic marble memorial will do.
The Tower of London, a riveting riverside castle-village founded around 1078 and home to the Crown Jewels and a bloody long history.
The Tower of London complex is a spacious and varied cluster of structures, starting life as a simple fortress with moat in 1078 begun on command of William I, 'The Conqueror'. The White Tower is 30m (90ft) high and has walls 5m (15ft) thick and is still the centre of the fort, but over hundreds of years under various kings and queens the complex has been strengthened and expanded to include a city arsenal (weapons storage), the Royal Mint (producing and storing coin of the realm) and the Crown Jewels (the spectacular ceremonial jewellery of the monarchs of England).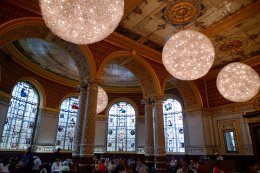 St Paul's Cathedral, City of London.
The latest St Paul's was designed by Sir Christopher Wren and completed in 1710. This is the fifth version built since 604 AD as all the others went up in smoke. It's 365 ft high (alert mathematicians may see some significance there) and was the tallest building in London until 1962. The interior is lavish and visitors can walk up to the Whispering Gallery and to a series of viewpoints.
This is another wild temporary pavilion – a summer tradition – for the diminuitive Serpentine Gallery in Hyde Park's Kensington Gardens, Central London. The Serpentine Gallery is five minutes walk from a new sibling, the Serpentine Sackler Gallery, to which it is linked by a bridge over the Serpentine Lake. Both galleries show extreme contemporary art and admission is free.
Hyde Park is a vast green space that encompasses a lake, Kensington Gardens, Kensington Palace, the eccentric Serpentine Gallery, Albert Memorial and Lady Diana's Memorial Playground.
Camden Lock Market. A massive north London collection of absurd clothes, bizarre bric-a-brac and amazing ethnic foods.
Camden Lock Market, North London (free if you can resist the shopping or exceptional foodstalls)

Camden Lock Market is eclectic, anarchic, artistic, great value and where old hippies go to die. It's been bugbog's favourite 'street' market for many years. The market has now grown exponentially into a vast but still individualistic enterprise that extends to several city blocks and merges into other, newer markets of differing standards.
The Science Museum showcases scientific and technology development throughout the ages along with a wing of cutting edge technology.
Not Recommended: Madame Tussauds

Poor quality waxworks viewed at considerable price after waiting in line for perhaps hours on one of London's least attractive streets, Marylebone Road. Get a life people! The awesome museums are real, free, astonishing and you don't have to waste hours of your precious time in a packed and polluted part of the city!