Monuments UK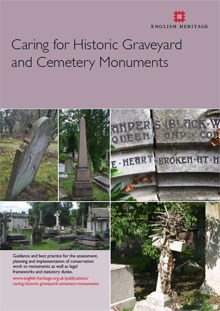 By David Odgers
A sound approach to the conservation of historic graveyard and cemetery monuments requires an assessment of their form, materials and relative significance, as well as their condition and attendant risks.
The care of monuments entails a range of preventive and remedial treatments, within an effective management framework.
This document provides guidance on best practice for the assessment, planning and implementation of conservation work to monuments as well as legal frameworks and statutory duties. It is intended for anyone interested in or responsible for the conservation of monuments, memorials and sculptural elements within a churchyard, burial ground, or cemetery.
It is useful to have a standard format for recording the details of each monument; an example of a Proforma Condition Report, with explanatory notes, is included in the publication.
On 1 April 2015 the part of English Heritage represented on this website changed its name to Historic England. You may notice that some of our content still refers to English Heritage. We are in the process of rebranding, but in the meantime please be assured that all our content and guidance is still current.
Contents
Summary
1 Approach
2 Historical background
3 Monuments
4 Deterioration
5 Legislation
6 Management
7 Inspection and assessment
8 Practical treatment
9 Further information
Additional Information
Series: Guidance
Publication Status: Completed
Product Code: 51691
Accessibility
If you require an alternative, accessible version of this document (for instance in audio, Braille or large print) please contact us:
Customer Service Department
Telephone: 0370 333 0607