Radcliffe Camera, Oxford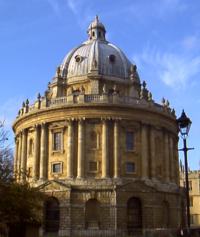 The circular dome and drum of the Radcliffe Camera provides one of Oxford's most iconic sights, and is a distinctive landmark in a city full of distinctive landmarks! The camera (the word means simply "room") was built 1737-1749 with £40, 000 bequeathed by Dr John Radcliffe, the royal physician.
The Radcliffe Camera was intended to house a new library, and designs were called for from several leading architects, including Nicholas Hawksmoor (responsible for much of All Soul's College) and James Gibbs.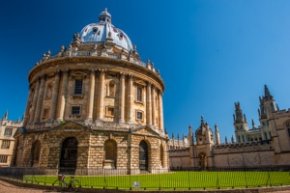 It was Gibbs who won the competition, with his elegant Palladian design, though his final plans drew heavily on earlier work by Hawksmoor. Gibbs was also responsible for the Church of St. Martin-in-the-Fields, in Trafalgar Square, London.
Originally the library in the Radcliffe Camera held both scientific and general books, but those collections were gradually moved to other University libraries, so that today the Camera functions as the main reading room of the Bodleian Library. The finished building holds some 600, 000 books in underground rooms beneath Radcliffe Square.
Sadly, the Radcliffe Camera is not open to the public.
Easiest access is from High Street, beside St Mary the Virgin church, or from Brasenose College Lane or Catte Street.