Architects House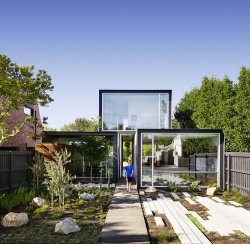 © Tess Kelly
+41
© Tess Kelly
From the architect. In a Nutshell
The site is neighboured by huge houses. We were asked to provide the family with 'just the right amount of space'. By creating large openings and generous connections to the garden we aimed to make this modest-sized house feel abundant and broad. The result is a home that is almost half the size of its neighbours without compromising liveability.
The Largest houses in the world
Australian homes are the largest in the world. This is a significant problem for Australia. A stable economy, aspirational culture and relatively flat topography have enabled Australians to occupy homes that are far bigger than they require.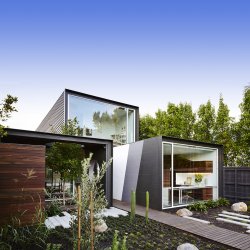 Melbourne's flat landscape, loose topographical boundaries and rapidly growing population have meant that large homes have spread over the food belt and into arid areas. Large homes, and their associated sprawl, are highly problematic. Services and infrastructure, such as food, water, electricity, communications, health and education are stretched at great expense to the public, both financially and environmentally. Large, deep homes are less responsive to the climates of Australia's cities. Therefore heating and cooling demands are radically increased. Large homes, and the subsequent sprawl, place significant demands on private car ownership and associated infrastructure, which is by far the least sustainable transport option.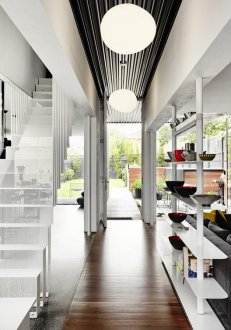 People who are unable to drive (the elderly, children, people with disabilities, etc) are often left isolated without reliable alternative transport options. Walking and riding become difficult, and often dangerous, in sprawl areas. In short, large homes are an environmental disaster for our cities, whilst also being a cultural/social disaster for our communities.
Floor Plan
Living with community.
"We (Australians) tend to seek those things in a private space rather than going and seeking them in a public space or mingle with others in the community and I think that is a worrying trend, " Professor Stuart White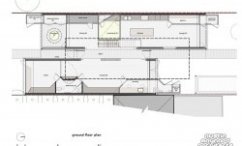 Like many of our wonderful clients, the owners of THAT House are keen to open up to the community rather than permanently hiding or fortifying themselves. As Australian homes and culture become increasingly inward looking and protective, AMA is reacting against this trend. THAT House can open up to the outdoors, both private and public. Importantly a house that can be very transparent needs to be able to adapt to multiple privacy needs. Hence we have installed upwards blinds to give the owners control over their level of privacy. How many times have you seen huge windows with their blinds permanently down? This happens because of the binary a downward blind creates. A downward blind provides no privacy until it is completely down. An upward blind enables you to cut-out almost all view into a home while still being able to look out to the garden, and the street beyond. This gives control over all levels of privacy and intimate control over the light let into each space.