London Architecture Festival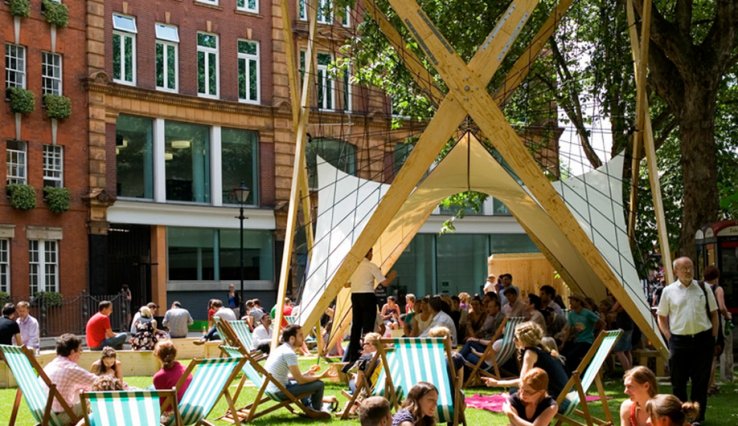 The 2016 London Festival of Architecture (LFA) celebrates London as a global hub of architecture. The theme of the London Festival of Architecture 2016 is "Community", and the festival aims to connect with as many people as possible to demonstrate architecture's relevance to London and its diverse communities.

The festival programme features exhibitions and events organised by London's leading architectural, cultural and academic institutions alongside architects, designers, curators and community groups from around the UK.

To celebrate LFA, New London Architecture will be running a special series of events throughout the month of June.


Each Friday in June, 13:15-13:45
Taking place in the Grow:Store crescent each Friday of June, this series of lunchtime soapbox talks will explore why growing matters, how well designed public realm benefits communities, and lots more…

Tuesday 28 June, 18:30-20:30
An evening of presentations, powered by PechaKucha, will invite a series of social innovators to present projects, which are engaging, or could engage, London's communities in creating better places and spaces. What does community mean in a major metropolis?
Click here to book!

Listening to Londoners - Community engagement in development - Free Breakfast Talk

As London continues to grow, the need for measured and innovative community engagement has never been stronger. How can London's boroughs and developers ensure that the public and all stakeholders are adequately informed of new development plans? Can more be done at planning stage to encourage a better sense of community within London's key development areas?

London Festival of Architecture – New London Walking Tours

Each Saturday in June, 14:00 – 16:00

To celebrate the London Festival of Architecture, NLA has commissioned a special series of New London Walking Tours, happening every Saturday for the month of June. Our walks will explore interventions being implemented across the capital to enhance, enrich and encourage interaction, engagement and community growth in areas of huge development. As well as tracking the wider development of these areas, our walks will visit a number of carefully designed schemes where outdoor public space is given extra attention to create attractive and comfortable places for communities to grow.

New London Awards – People's Choice Award

Commemorating London's most loved new building or place, the inaugural People's Choice award gives Londoner's the chance to vote for the best scheme of the last 2 years, selected from shortlisted entries at NLA's New London Awards exhibition! Forming part of a wider celebration by the industry of the best new and proposed London buildings and spaces, this new award gives Londoners the opportunity to champion their favourite from 03 June - 30 June.