Gothic Architecture Timeline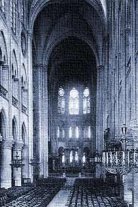 Dimensions:
The length of Notre Dame is 390 ft.; the width at the transepts, 144 ft.;
the length of the nave, 225 ft.; and the
width of the nave
(without the aisles), 39 ft.
The height of the vaulting is 102 ft.
Notre Dame de Paris
Timeline
1160
Maurice de Sully proclaims the vision of the cathedral
1163
Cornerstone laid, construction begins
1182
Apse and Choir completed
1196
Death of Maurice de Sully, completion of the Nave
1200
Eudes de Sully begins work on the western facade
1225
Western facade and Rose window completed
1250
Western towers and northern Rose window completed

1250 - 1300
Remaining elements completed
1699
Reconstruction of main altar begun
1741
Stained glass windows removed
1845
Viollet-le-Duc begins major restoration
1864
Restoration completed
The Nave of
Notre Dame de Paris.
Historic Events
1185
Heraclius calls for the Third Crusade from the Notre Dame
1338 - 1453
The 100 Years War
1431
Henry VI crowned King of France within Notre Dame
1548
Huguenots damage features of cathedral following the council of Trent
1558
The Dauphin Francis weds Mary Stuart at Notre Dame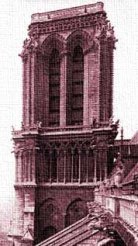 1572
Henry of Navarre weds Marguerite of Valois, days before the August 24 massacre of the Huguenots
1793
Revolutionaries vandalize Notre Dame, tearing down the gallery of kings and removing all valuables
North Rose Window
On the 2nd of December, the ceremony of the coronation took place in the ancient cathedral of Notre Dame, with the addition of every ceremony which could be devised to add to its solemnity. The Emperor took his coronation oath, as usual on such occasions, with his hands up on the scripture, and in the form in which it was repeated to him by the Pope. But not even from the head of the Catholic Church would Bonaparte consent to receive as a boon the golden symbol of sovereignty, which he was sensible he owed solely to his own unparalleled train of military and civil successes. The crown having been blessed by the Pope, Napoleon took it from the altar with his own hands, and placed it on his brows. He then put the diadem on the head of his Empress. Te Deum was sung; the heralds, proclaimed, "that the thrice glorious and thrice august Napoleon, Emperor of the French, was crowned and installed."
—Sir. Walter Scott, Life of Napoleon Bonaparte
1804
Napoleon crowned as emperor of France within Notre Dame
1871
The cathedral is set on fire during the commune
1909