Park Hill, Sheffield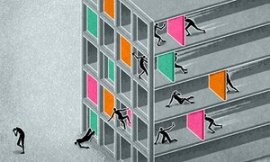 Illustration by Matt Kenyon

Thanks to its intrinsic time lag – the fact that a building commissioned in one era will come to be finished in another – architecture is the best place to see a curious nostalgia for the very recent past. Here you can observe a strange collective desire to pretend it's still 2007, and we aren't going through a crisis that challenges our economy of finance and property to the core.

You can experience this in, gawky sheds aiming at the "Bilbao effect" in two of Britain's most impoverished cities; and perhaps most pointedly, you can see it at Park Hill, a former council estate in Sheffield. That's an especially fine choice, because there it stops halfway through.

There have been arguments about Park Hill ever since it was built in 1961. Its attempt to create "streets in the sky" through wide, airy internal walkways has caused endless debate over whether they are real streets. But given that people congregate on them, there is public access to them and crimes sometimes happen in them, it would seem that they are as open-ended and tricky to police as the Victorian terraces they replaced.

Park Hill's status has changed gradually from a source of intense municipal socialist pride to dilapidated sink estate. It is commonly described as the "largest listed building in Europe" and the largest listed brutalist or 60s building. In fact it's none of those things, with all those titles being taken by London's Barbican estate: a place that, like Park Hill, is full of bare concrete, open space, urban density, walkways, social facilities (both contain several schools and pubs, although only one an arts centre) and the separation of pedestrian and car. One is a problem that apparently had to be solved; the other one of London's most prestigious addresses. Why?

The obvious reason is that one is council housing and the other, from the very start, was built as private housing. Accordingly, the Barbican has always been cleaned and cared for; Park Hill has been left to rot. So much so that many of the building's defenders (and there are a large number, in Sheffield and out) approved when a property developer started rebuilding – knocking the bricks out of the concrete frame, "decanting" hundreds of people and inserting brightly coloured panels to signify to the surrounding area that the estate was being regenerated – with the assistance of public money, via English Heritage and the Homes and Communities Agency, that might have been better spent renovating the place for those who already lived there. But the years of denigration made this an easy sell. At least something's happening. At least it's not being knocked down.

Now Park Hill's redevelopment has been "finished" and some are rushing to describe it as a success. The same developer, Urban Splash, was also hailed for its "success" in New Islington, in Manchester, after completing two closes of houses and one block of flats, on the site of another council estate. Yet most of that area is still a gigantic wasteland nearly 10 years after being taken on.

The new Park Hill is similarly not what it seems. One quarter of the estate boasts shiny panels, glass lifts, a new steel staircase and an asking price starting at £90, 000 per flat – a bargain for a young professional, inconceivable for the poorly paid and unemployed who used to live there. Two quarters are derelict, alternately tinned up to prevent squatters or decorated with public art.

The last quarter, furthest from the city centre, is still inhabited – although when I pointed this out last week to Sheffield council's head of planning, he was unaware of this fact. Walk around here in the day and you'll see chairs on the walkways, doors open and elderly tenants chatting. Yet the place is invariably presented as a failure needing drastic action. The rest of the estate waits for the state to hand the developers more money to spread their magic across the rest of its former asset; more evictions will surely follow.