Arts in Glasgow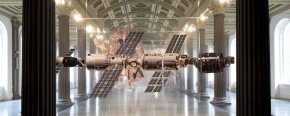 Having just hosted the Turner Prize in 2015, Glasgow's artistic credentials have never been stronger - discover some of what makes Glasgow such a creative city with our guide to art in Glasgow below!
Glasgow Art Map
World-class artists are trained and based in this city and there's artworks aplenty, both traditional and contemporary, for residents and visitors to savour. Navigate your way around the best art and design on offer with this handy Glasgow art map, also available as a pdf.
Modern & Contemporary Art Spaces - From more formal gallery spaces to interesting repurposed buildings run by artist collectives.
Classic Art & Design Experiences - Glasgow museums, centres and attractions with notable art or related collections.
Contemporary Galleries Representing Artists - Helping to sell the artwork of artists they support, these galleries are also publicly open during exhibitions.
Glasgow International - April 8-25, 2016
With free entry to exhibitions in over 50 venues across the city, this world-renowned festival returns in April 2016. The ambitious programme includes exhibitions, events, talks, performances and projects by prominent and emerging international and Glasgow-based artists. Here's a wee taster!
The Secret Art of Glasgow
Glasgow's city centre is crammed full of buildings with beautiful detailing above eye level – so look up! The Tron Theatre's exterior features a bronze cherub and a skull, representing the past and present use of the building as a place of worship and a theatre. Find out more about Glasgow's secret sculptures for some of the fascinating stories behind them.
10 things to see and do
photos: Amy Muir/Muted Mornings
1. The Cottonrake Bakery on Great Western Road serves up sublime cakes and pastries with its coffee, and in its window is a neon sign advertising its Donut Repair services, made by Turner-nominated artist David Shrigley.
2. Citizen Firefighter by Kenny Hunter is a tribute to all the firefighters who have served in Glasgow, and you'll find this bronze sculpture outside Central Station.
3. Head for Trongate 103 where several visual arts organisations are located including Glasgow Print Studio, Transmission and Project Ability. Just around the corner on Bridgegate is The Briggait, a former fish market now housing artist's studio spaces with a regular exhibition programme.
4. At three points in and around Byres Road in the city's west end, you can marvel at the murals of multi-talented Glaswegian artist and writer, Alasdair Gray. See his work at Òran Mór, the Ubiquitous Chip and at Hillhead underground station.
5. Glasgow Art Club on Bath Street has been a hub for artists and patrons since 1867. Its famous gallery, complete with reinstated Charles Rennie Mackintosh frieze, has now been renovated. Free tours are available every Tuesday at 11.30am.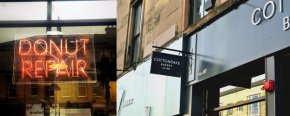 6. Glasgow-born artist George Wyllie came to art late in life but he was always in a hurry. His quirky giant Running Clock sculpture, which has been outside Buchanan Street Bus Station since 2000, reminds busy passers-by that time never stands still.
7. The Willow Tea Rooms on Sauchiehall Street, designed by Charles Rennie Mackintosh and opened in 1903, is still in use today. A popular visitor attraction, be sure to try their famous afternoon tea.
8. Vincent van Gogh's portrait of influential art dealer, Alexander Reid hangs in Kelvingrove Art Gallery. The city centre building on West George Street in which Reid operated his Glasgow gallery has now reopened as The Leiper Gallery.
9. For the 2014 Commonwealth Games in Glasgow, contemporary urban art organisation, Recoat, were commissioned to curate a mural project on buildings across the city. You can see these striking works in all corners of Glasgow.
10. The oil painting of Christ of St John of the Cross by surrealist artist Salvador Dali is one of the best known works in Glasgow Museums' collection. In 2005, it was even voted Scotland's favourite painting in a poll carried out by The Herald newspaper.
Art walks and trails
The best way to explore Glasgow's art highlights is to take a hike...The Glasgow School of Art runs two walking tours, with The Glasgow Style tour allowing you to get up close and personal with art, architecture and design from Mackintosh's Glasgow. With a more contemporary take, the Glasgow Miracle Tour walks you through the contemporary arts scene and the huge changes that have taken place since the days of Glasgow's reign as Second City of the Empire.
Mural Trail
Take a walk in Glasgow's city centre and you're likely come across at least a few pieces of street art - the City Centre Mural Trail is a diverse collection of artwork from both local and international street artists. The first work was produced in 2008 and the portfolio of work is ever expanding - true to the ever changing nature of street art.