Famous buildings in Ireland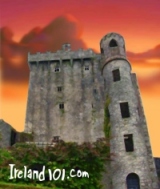 Blarney Castle
At the top of the castle lies the famous Stone of Eloquence which is also known as the Blarney Stone. Tourists visiting Blarney Castle can hang upside-down over a sheer drop to kiss the stone, which is said to give the gift of eloquence. There are many legends as to the origin of the stone, but some say that it was the Lia Fáil—a magical stone upon which Irish kings were crowned.
Ben Bulben, Co. Sligo
Ben Bulben is probably the most stunning rock formation in Ireland. The pleateau formation, which is a part of the Dartry Mountains, overlooks Sligo Town in County Sligo, in the northwest of Ireland. For those interested in climbing up Ben Bulben it is a tough approximately 2.5 hour climb but on a clear day you have a stunning view of as far north as Donegal and as far south as Mayo.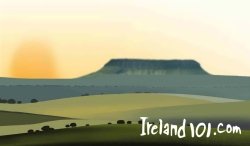 If you make it to Ben Bulben you have to check out the famous Irish writer William Bulter Yeats' grave which sits in a grave yard at the foot of Ben Bulben.
Also take a trip out to Rosses Point pennisula, about a 15 minute drive from Sligo town.
The Skellig Islands
>

The Skellig Islands are called Na Scealaga in Gaelige. The islands are two small, steep and rocky islands lying about 10 miles west of Bolus Head on the Iveragh Peninsula in County Kerry. They are famous for their thriving wild bird populations including gannets and puffins, and also for an early Christian monastery that is now a world heritage site.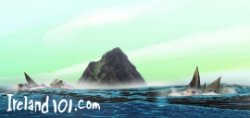 There are two Skellig Islands, Little Skeillg, known as Sceilig Bheig in Gaelige and Skellig Michael, known as Sceilig Mhichíl in Gaelige.
Little Skellig is unfortunately closed to the public, and holds Ireland's largest and the world's second-largest Northern Gannet colony, with almost 30, 000 pairs.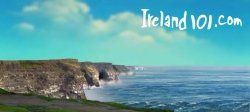 Skellig Michael is the larger of the 2 islands, rising to over 230 m above sea level. With a sixth-century Christian monastery perched on a ledge close to the top.
The Cliffs of Moher
The Cliffs of Moher are one of the top tourist attractions in Ireland. The cliffs are on the south-western edge of the Burren area near Doolin, which is located in County Clare, Ireland.
The cliffs rise 394 ft above the Atlantic Ocean at Hag's Head. The area attracts close to one million visitors per year. On a clear day, the Aran Islands are visible in Galway Bay, as are the valleys and hills of Connemara.
The cliffs were recently made famous as the digital backdrop in a scene in a recent Harry Potter film.