Old Town Edinburgh map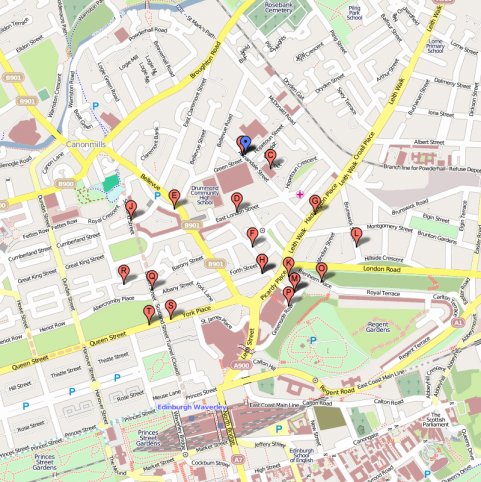 ThisIs Edinburgh. Forget the coast, the New Town and the urban sprawl. These days the city boundaries may stretch from Queensferry to Joppa along the Forth and south into the Pentland Hills but when you're talking about the original, medieval Edinburgh, the Old Town is it. It's not possible to say when the first fortification was built on Castle Rock – there are hints of human occupation going back to the late Bronze Age – but it's widely accepted that there was some sort of castle by the late 11th century at the highest, rocky and westernmost point of a volcanic whaleback hill that slopes down to the east. Into the 12th century Holyrood Abbey was built at the foot of that hill creating the spine around which medieval Edinburgh grew – now known as the Royal Mile – with various streets and closes (small alleys) leading off north and south. Given the Old Town's antiquity, it is here you find most of the older visitor attractions, the bulk of the tourists and a consequent concentration of shops, bars, cafés, restaurants and nightlife.
It's not a big area however. From Edinburgh Castle to the Palace of Holyroodhouse, next door to the surviving ruins of Holyrood Abbey, is actually around a mile (1.6km) although it then opens out to the wide spaces of Holyrood Park. You can walk anywhere in the Old Town and be following in the footsteps of kings and queens, invading armies, religious radicals, dissenters, murderers, the condemned or the celebrated. An order of knights established by James II & VII still meets at the High Kirk of St Giles within a few minutes' walk of nightclubs that will keep you dancing to dubstep until 3am. Dimensionality is probably the best word for the Old Town, in its spaces, its history and its multifaceted appeal. Along with the New Town it has been an official, UNESCO World Heritage Site since 1995.