Capital of Edinburgh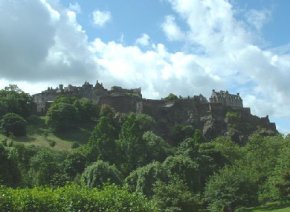 Edinburgh city lies on the east coast of Scotland, on the south bank of the Firth of Forth (the estuary that opens into the North Sea). Geologically, the Firth of Forth is a fjord, carved by the Forth glacier at the Last Glacial Maximum. The famous Edinburgh Castle is situated on the top of a volcanic rock intrusion which was resistant to erosion by the ice sheet, and so stands above the surrounding area; a perfect defensive site! The volcanic rock sheltered an area of softer bedrock from the erosive forces of advancing glaciers, creating a "crag and tail" feature where the tail is a tapering strip of the softer rock. The Old Town runs down the "tail" and the castle stands on the "crag". The site of the city of Edinburgh was first named as "Castle Rock".
The name "Edinburgh" is rumoured to originate from the old English of "Edwin's fort", referring to the 7th century King Edwin of Northumbria (and "burgh" means "fortress" or "walled collection of buildings"). However, the name probably preceded King Edwin so this is unlikely to be true. In 600 A.D. Edinburgh was referred to in the form "Din Eidyn" or "Fort of Eidyn", when the settlement was a Gododdin hillfort.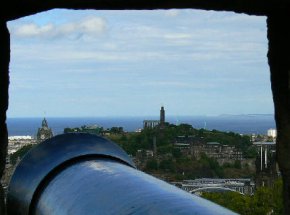 The city is also affectionately named by the Scottish as "Auld Reekie" (Reekie meaning "Smoky"), referring to the pollution from coal and wood fires that left dark smoky trails from chimneys through the Edinburgh skies. It has also been named "Auld Greekie" or the Athens of the North due to its topography; the Old Town plays a role similar to that of the Athenian Acropolis.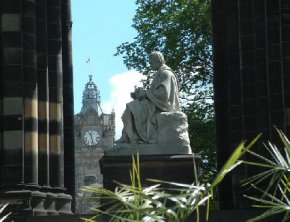 "Auld Greekie" also refers to Edinburgh's role as Scotland's intellectual and cultural centre. While most cities expanded and developed heavy industries during the industrial revolution, the expansion in the Forth region happened at Leith, leaving Edinburgh relatively untouched and confined. The history of Edinburgh has therefore survived and guaranteed Edinburgh a title as a UNESCO World Heritage Site (1995).
Edinburgh is defined as being the Old Town and the New Town. The New Town developed beyond the old city walls, during a time of social reform and prosperity after the Jacobite rebellions. In response to problems caused by an increasingly densely populated Old Town (the city had remained, until then, confined to the volcanic rock on which it was born), expansion north was begun. All the excess soil that was generated from the construction of the New Town was unloaded into the post-glacial Nor Loch, which mounted up and has become what is now known as The Mound. The National Gallery of Scotland and the Royal Scottish Academy Building were built on top of the Mound and tunnels have been carved through it, leading to the famous Waverley Station.