Cambridge Architectural Metals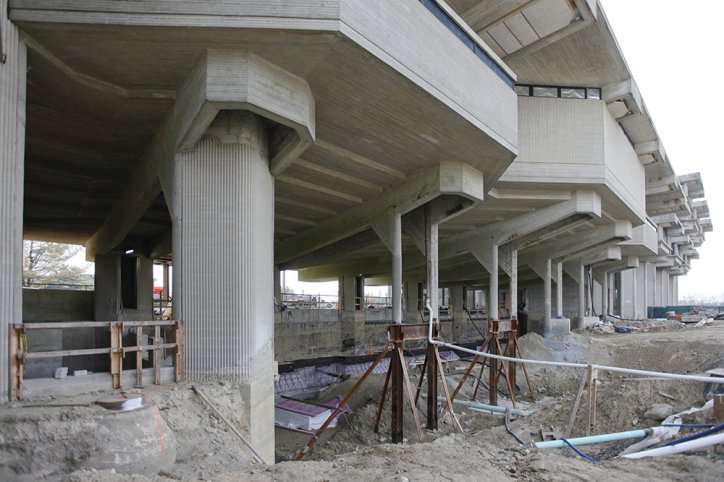 Industry pioneer in applying metal mesh to elevator interiors continues to secure high-profile projects
Cambridge, Maryland, Oct. 1, 2014 – With an improved economy and construction and renovation projects on the rise, Cambridge Architectural announced today it is introducing a volume stock program for certain woven metal mesh patterns used primarily for elevator cab cladding. By maintaining an inventory of its "Classic, " high-volume patterns (Channel 29SS, Plaza 75A, Sawgrass 88A and Stipple 19A), the company can offer customers lower prices with the added benefit of shorter delivery times.
For many years, Cambridge's metal mesh has been a top choice among retrofitters, architects, designers and commercial developers looking for an elegant, high-end finish to accent and protect elevator cab interiors.
Cambridge is the North American pioneer in applying durable woven metal mesh to elevator interiors having first outfitted elevator cabs in New York's Seagram Building on Park Avenue in 1957. The same mesh is still found there today.
More recent Cambridge elevator interior projects have been completed or are underway at Carnegie Hall, The Empire State Building and 220 Madison Ave. in New York City, the San Francisco Public Safety Building, The Arlington in Boston, Gensler's Houston office and Yahoo headquarters in Sunnyvale, California.
"We've sold a lot of custom-order elevator cladding over the years, " said Cambridge Brand Manager Gary Compton, "but with advancements in technology and increased demand for product due to the resurgence in building construction, we're now able pre-stock these high volume patterns to better serve our customers."
Cambridge high volume metal mesh patterns for elevator cladding include:
·Channel (29SS): Stainless Steel; 4 lbs./sq. ft.; maximum width 120"
·Plaza (75A): Stainless Steel; 3.70 lbs./sq. ft.; maximum width 60"
·Sawgrass (88A): Stainless Steel; 3.57 lbs./sq. ft.; maximum width 60"
·Stipple (19A): Stainless Steel; 3.57 lbs./sq. ft.; maximum width 60"
Cambridge Architectural also offers the option of providing framed panels for quick installation in the elevator cab. The mesh on the panels is bonded to medium density fiberboard (MDF), framed with stainless steel J-Trim and includes Z-shaped mounting clips on the rear.
Cambridge Architectural's Elevator Cladding brochure provides useful technical information and photos of 39 distinctive mesh patterns.
About Cambridge Architectural
Cambridge Architectural, a division of Cambridge International, is the most experienced full-service provider of sustainable architectural mesh systems for both interior and exterior building applications. As the world leader in tensioned mesh systems, Cambridge Architectural metal fabric solutions lend unique aesthetic appeal, functionality, affordability and sustainable benefits to a variety of structures interior and exterior. Cambridge Architectural offers full system design, engineering and collaboration from concept through installation – in the most challenging building environments and under the strictest budgets. Cambridge Architectural metal fabric systems are categorized by the primary applications they serve, including parking structures, exterior shades, facades, canopies, curtains and others. As a member of the United States Green Building Council, Cambridge Architectural is committed to promoting methods, technology and products resulting in environmentally responsible and healthy buildings. The Cambridge Architectural team develops systems that meet or exceed LEED requirements and provides consultation and direction on a project-by-project basis. Visit for more information.