Design exhibitions London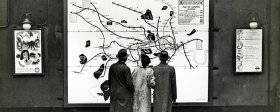 Open now
Discover the art and aesthetics behind the functional and familiar at our new exhibition designology which opens on Friday 20 May 2016.
The exhibition will explore how design is encountered in our everyday journeys and how this has evolved over the last century, as well as looking at how our travel experiences might develop in the future. From the visual to the virtual and from Victorian engineering genius to modernist masterpieces, designology will uncover the fascinating designs and processes behind London's moving metropolis.
Publicity and communication, architecture, technology, engineering, service operation and the urban environment will be explored, demonstrating how every aspect of the Capital's transport system and the passenger journey have been thoughtfully designed since the early years of the 20th century.
Highlights of the exhibition will include posters from the golden age of travel, historic maps, tickets and signage, and a pop up design Studio where visitors will be able to find out more about contemporary design innovation. As visitors make their way through the exhibition they will begin to recognise the underlying design that surrounds them - design hidden by its familiarity in everyday life.
Visitors to can also enjoy London by Design, the Museum's new permanent gallery which celebrates key moments and important milestones in London's transport design heritage and shows how British art and design have become deeply and inextricably bound with London's transport network.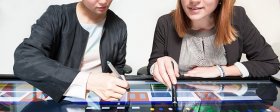 Come and take part in our year-long public programme of events, situated in the 'pop-up' designer's Studio integrated into our temporary Designology exhibition. The programme will be actively exploring how good design makes life in London better, through residencies and participatory workshops. Events include interactive 1-day residencies, design projects and challenges. You will get to meet a wide range of real designers and experts in the field and discover more about TfL's design influences, ethics, branding & principles.
Full programme of events (Aug-Sep):
Over the coming year we will be exploring three themes:
Social Behaviour, Wayfinding, Data and Mapping (May – July 2016)
Most events run on Saturday and start at 11:00 and 14:00, however there are some weekday events, so do check for more details.
Entry to the Studio and the programme of events is included in the cost of museum entry and tickets are valid for the whole programme.
We will also host three end of theme Late Debate events. These symposia-style events will focus on the particular topics and themes that have been explored in the studio over the past months and will feature invited speakers, panel discussions and workshops. Audiences and visitors will be encouraged to get as involved as possible, and will leave each event with a greater understanding of the complexity behind making design decisions for public transport in London.