Architectural Salvage, Belfast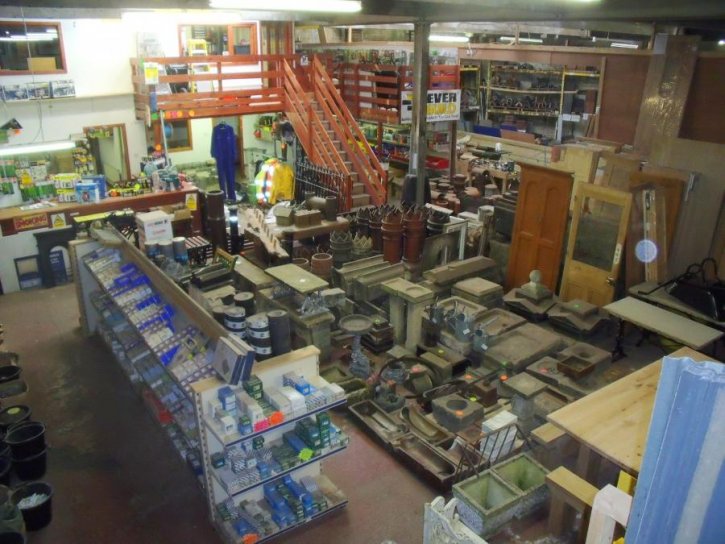 I'm standing in the former home of Jonathan Fyffe, surrounded by old fireplaces and their grates, brass doorknobs, mirrors, doors and fancy tiles. I went down Belfast's York Road to investigate Jennymount Street. Situated just past Thompsons feed factory and before the mill building, I found the proud home of Architectural Salvage, which started out from one small house on the street Jon bought for £200 in 1979.
He explained from this part of York Road towards the city centre in the late 70's and early 80's was becoming totally derelict. Instead of letting Jennymount go a similar way, Jon paid the residents deciding to leave the street £200 (a good price compared with the £100 the Housing Executive were paying). The Executive still owned five neglected properties in the street but Jon took them to court citing a repair clause a rule where residents in a particular street can object to houses falling into dereliction and won, giving him the right to own the entire street. Having total ownership by 1989 allowed Jon to establish Architectural Salvage in 1990.
Jennymount is more that just a salvage yard, on first sight the street feels like you have entered a Belfast version of the Ulster Folk Park, only the facades of the houses remain but all are respectfully painted green and white and still retain the aura of workers houses for the mill that they were originally constructed for.
Working with demolition companies, Architectural Salvage is the end of the line for houses, factory buildings, warehouses and their contents. Business involves going to a site and recovering valuable, resaleable and recyleable items. The most interesting thing Jon remembers coming across were the long forgotten fittings for the Titanic's sister ship which never made it home after being torpedoed in the Baltic. Most of his customers are people looking to buy a restored fireplace or tiles, antique dealers and brick merchants, he deals tons of bricks every year all going on to the construction and restoration industry.
Things that have threatened Architectural salvage until now have been the peace process and it's effect on the Northern Irish economy which nearly put Jon out of work. The public's desire for shiny new surfaces and funky modern furniture all available in the B&Q's and Ikeas of this land meant that business took a dive. But now something far more ominous has threatened the Jennymount Street business the Housing Executive has reared its head again, and have acquired Jennymount by compulsory purchase for housing. Jon has again fought in court and come away with owning one half the street with which to conduct business.
He is remarkably philosophical, not wanting to stand in the way of progress, but it's sad that after building up a business and making money and a living out of demolition, that is the very thing that is going to threaten it half of Jennymount Street and Jon's former home will have disappeared by the time you dear reader are reading this. Streamlining of business is what this situation presents, 'Now I won't be able to take more obscure stuff and have it sitting around the street for two years before it's sold' No word either from potential residents about how they'll feel with salvage in their back gardens? 'That's for the executive to work out' Jon's opinion is that York Road should remain dedicated to industry.
Back to business and my interview coincides with a trip to Cleanaway scrap merchants Jon visits regularly to sell the leftovers of his spoils. 'I love all this' he says, looking around, the end of another busy day at the huge yard on Queen's Island. It makes a truly big impact with cranes moving mountains of metal, lorry after lorry dumping crushed cars, scrap aluminium and loads of rusty stuff ready to be recycled. 'I would love to own that much scrap' Jon comments that steel from this place will fetch double the price at the moment.
This is the place things go to after we get rid of them, and in a way the scrap yard is a much bigger version of Jon's own yard. I got a clearer picture of how and where Architectural Salvage stands in the economic 'food chain' ; basically at the end but, in recycling terms at the beginning too, this for Jon means that salvaging and trading the stuff that we don't want any more never looses it's appeal, 'There's always the unknown, that's what makes it interesting'.