Top Oxford colleges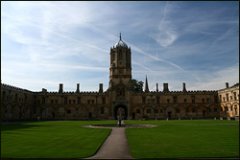 I. Christ Church

Christ Church is perhaps the most famous and most visited college in Oxford. Its origin dates back to the 16th century. Christ Church cathedral (Church of England) is also the seat of Bishop of Oxford. Christ Church has also been made popular by the Harry Potter movies. Key things to look out for here are an elaborately wood-panelled dining hall with places already set, the cathedral of Oxford and the impressive Tom Quad with a fountain and statue of Mercury in the middle. The main entrance to Christ Church (though tourists are not permitted to enter thorough this gate) is called the Tom Tower named after the enclosed Great Tom bell. The bell tolls 101 times at 9:05 every night.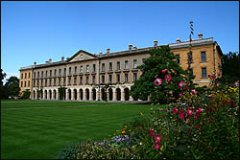 Though it is largely symbolic now, in its early days, this was to inform all 100 (and later 101) Christ Church scholars to return to the college before the college gates shut. Another interesting trivia to note is the timing - 9:05pm and not 9:00 pm. This is because technically Oxford is 5 minutes behind Greenwich (where the Prime Meridian and GMT is defined). Hence 9:05 is actually 9:00pm in Oxford's time zone! Enter via Christ Church meadow, just off St Aldate's.
For more information about visiting times and admission charges, please visit the Christ Church webpage for visitors.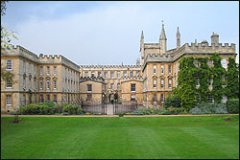 II. Magdalen College

Firstly, it is not pronounced as what you think it should be. It is "maud-lin". Another pretty college with a deer park, chapel and cloisters, Magdalen is certainly well worth a visit. Magdalen was founded in 1458 and is located right next to the river Cherwell, a major tributary of river Thames. The Botanic Garden is located directly opposite and in case you decide to go punting, punts can be hired from under Magdalen bridge, just past Magdalen college. Enter from the east end of High Street.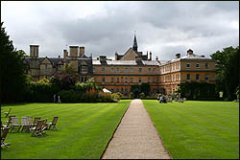 For more information about visiting times and admission charges, please visit the Magdalen College webpage for visitors.
III. New College
I studied at New College and truly believe that it is amazing college to visit. The college was founded in 1379. The amazing, but eerie pretty cloisters, bell tower, chapel, dining hall, quad, mound, lawn, garden and a 1000-year old city wall, there is quite a bit to see here. Also, while you are here, keep an eye out for the grotesque gargoyles! Entrance is either via the main gate on New College Lane (Easter to early October) or Holywell gate on Holywell Street (winter).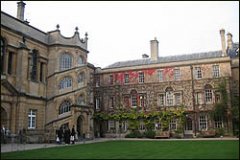 For more information about visiting times and admission charges, please visit the New College webpage for visitors.


IV. Broad Street – Trinity College & Balliol College

If you are on Broad Street (perhaps the broadest street in Oxford), you might want to pop into Trinity college or Balliol college and take a quick look around.


V. Between Broad Street and High Street

There are numerous mid-sized colleges between these two major streets in Oxford - Exeter College, Lincoln College and Jesus College on Turl Street, Hertford College on Catte Street and Brasenose College on Radcliffe Square. If you do not have a lot of time, it might be worth quickly popping into see what an old college looks like. Colleges, gardens and lawns are delightful in every possible season and weather condition.