Glasgow Arts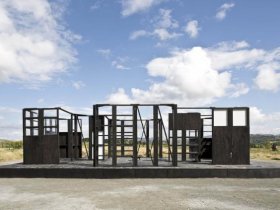 When the Glasgow International Festival opens next month, director Sarah McCrory will present her first thematic group show for the programme, inspired by the city's industrial heritage and its artists' relationship to manufacturing.
The urban shift from heavy industry to the creative industries is a sensitive issue, and by no means one unique to Glasgow, but the sheer lustiness of the city's art scene, its self-sufficiency and its inventive, ongoing territorialisation of derelict post-industrial spaces in many ways make it a case apart.
"If I were an artist, I'd move here in a hot minute, " says McCrory, who relocated to Glasgow in 2012 to take the reins of the biennial festival following stints as curator of Frieze Projects and London's Studio Voltaire.
McCrory cites benefits such as available studio space, affordability, and a pace of life that allows "more time to develop ideas", as well as the fact that there's "still a culture of government funding: it's not amazing, but perhaps better than the rest of the UK."
Over at the Glue Factory, an artist-run space on a knocked-about light industrial estate in the north of the city, the creative energy is almost palpable.
Entering through the street-side door, one passes through studios occupied by graphic designers and screen printers, and a sweltering kitchen taken over by a local music label hand-moulding rubber CD sleeves, before getting to the first suite of exhibition spaces.
A month before the festival, they are thronged with third-year Painting and Printmaking students from Glasgow School of Art (GSA) hanging a weekend show.
The factory spaces extend over three levels, some still dressed with gargantuan boiling tanks and other industrial infrastructure. Platforms jut out at half levels offering balcony views over a trio of students in brightly coloured masks practising for a performance work.
On an early spring day with dappled light trickling from moss-edged plastic panels in the roof, the Glue Factory looks like some airy bohemian dreamworld, but Alex Misick, the programme co-ordinator, notes that persistent leaks and – until recently – a complete lack of heating made for a challenging environment in which to make and show art.
Despite the drips and crumbling plaster, the Glue Factory is considered an established venue, five years into its current incarnation, offering extra gallery space to outside institutions alongside a programme that includes concerts and exhibitions. For Glasgow International, the Glue Factory has worked with London's Woodmill on "Rough House", a project that will itself explore interdependence.
The Glue Factory and Misick's position within Glasgow's art ecosystem are illustrative of the lack of hierarchy and DIY spirit that infuses the city's creative scene. After graduating from the Glasgow School of Art, Misick worked at the city's Centre for Contemporary Art before moving to the Glue Factory.
In his current role, he is informally mentored by his old boss (CCA director Francis McKee), but is also acting as a relatively experienced adviser on the renovation of the Pipe Factory, a younger, not-for-profit space in Glasgow's East End.
The sense that every person and organisation is connected, often via multiple routes, is enhanced by the central role played by the GSA. By and large, the city's gallerists and organisers are GSA graduates; the first artists they show and represent are their peers, and the subsequent renovators of their spaces and designers of their exhibition posters are contemporaries drawn from sibling departments. The GSA has produced a prodigious number of Turner prize nominees – 30 per cent this past decade have come from the school – but it is also the alma mater of the city's most important gallerists, and many of those running its arts organisations.