Glasgow Art College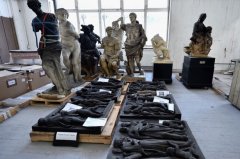 2016 Getty Images The Glasgow School of Art's collection of plaster casts in the east wing

ONE of Glasgow's most famous colleges is to be given a new lease of life as part of the redevelopment of Glasgow School of Art.

Stow College, which sits at the side of Scotland's busiest motorway, is to become a hub for the Art School's School of Fine Art .

The move is part of an overall development plan which will also see the restored Mackintosh Building refurbished following the major fire which destroyed much of the building in 2014.

The Mack, as it's affectionately known by students and graduates, will now become a home to first year students when it reopens in 2018-19 - a move which echoes its original role.

A major fundraising drive will be launched tonight at the GSA with £17 million of £32 million already secured in the new campus development plans.

2016 Getty Images

A major fire destroyed much of the building

Significant parts of the internationally-lauded building were lost in the fire including the famous Hen Run and library.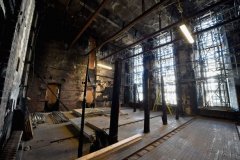 The structure, which was first opened in 1909, made worldwide headlines after the fire which started after a canister of foam exploded close to a hot projector.

Famous GSA alumni include Doctor Who Peter Capaldi and Travis singer Fran Healy, who Tweeted that watching the building in flames was "like seeing your granda on fire."

GSA Director Professor Tom Inns said: "The acquisition of the former Stow College site is a fundamental element of our new estate development strategy. It will mean that the GSA can bring together all pathways in the School of Fine Art in one specially-adapted building for first time in over 50 years.

"It will also mean we can create the space to support collaboration across our disciplines as well as with other academic, third-sector and industry partners.

"This next phase of our campus development will help us achieve our academic aspiration to become a global leader in studio-based learning and research, provide the space to accommodate a 25 per cent increase in our student numbers by 2018, and importantly provide the GSA with space for future growth."

Workmen in the sub basement in the east wing of the Glasgow School of Art

Stow College, which sits adjacent to the M8 is perhaps most famous as the home of the Electric Honey record label who were instrumental in the success of bands like Belle & Sebastian, Snow Patrol and Biffy Clyro.

It was merged with John Wheatley College and North Glasgow College in 2013 to form Glasgow Kelvin College.