Universities in Cambridge Ontario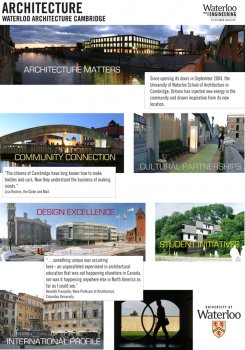 University of Waterloo School of Architecture
The University of Waterloo School of Architecture officially opened October, 2004 in the renovated Riverside Silk Mill located at 7 Melville Street South in Cambridge. The School of Architecture overlooks the Grand River amid historic churches and stone buildings. The facility is located in historic Galt City Centre.
The School of Architecture at Waterloo is an outstanding nationally and internationally respected design school. It attracts top students and is dedicated to educating the best young architects in the world. Under the direction of Professor Rick Haldenby, the renowned School of Architecture offers both undergraduate and graduate programs.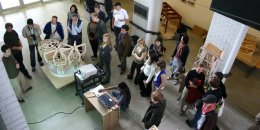 The Bylaw Enforcement Division would like to welcome new incoming students as well as returning students to the University of Waterloo and remind them to be mindful of city by-laws while enjoying the fun and excitement that Cambridge has to offer. Click here to review some of the bylaws the city has in place
| | |
| --- | --- |
| | The School of architecture is a host to the Design at Riverside exhibition, and is one of only two publicly funded galleries dedicated to architecture and design in Canada. It is a part of the Cambridge Public Library system with art exhibition spaces at Queen's Square in Galt and in Preston. Together, the three galleries host approximately 23 exhibitions per year reflecting a range of local, regional, provincial, national and international developments in contemporary and historical visual art. For further information call 519-621-0460 or e-mail gallariesinfo@cambridgegalleries.ca |
| | |
| --- | --- |
| City Council has recently approved a feasibility study on the Venice Biennale, the world's most prestigious architectural exhibition. The Venice Biennale is a major contemporary art exhibition that takes place once every two years (in odd years) in Venice, Italy. City Council is looking into the feasibility of hosting the event in years that it is not taking place in Venice. | |
On Friday, April 18 until Sunday, May 4, The University of Waterloo School of Architecture hosted Synergy at the former Shoppers Drug Mart building located on the northwest corner of Main and Ainslie Streets in downtown Cambridge. was created by master students currently enrolled at the School of Architecture as an urban design intervention. Working together, students transformed the former Shoppers Drug Mart empty storefront into a work of visual art.